Hikers Willing to Support Trail Closures to Protect Park
Survey finds Support for More Education, Temporary Trail Closures and Limited Parking
KEENE VALLEY, N.Y. – Hikers who climb the 4,059-foot-high Cascade Mountain said they would be willing to support limits on trailhead parking, temporarily close eroding trails, and require mandatory education to prevent damage to the High Peaks Wilderness and other sensitive areas of the Adirondack Park.
These are findings of a fall 2017 Adirondack Council survey.
The vast majority of hikers interviewed also said they were more interested in taking a hike with a view than in bagging one of the 46 tall peaks one must climb to receive a badge from the Adirondack 46ers. Conservationists said that was a good sign, because the eastern High Peaks Wilderness Area is showing signs of overuse, threatening user safety, degrading natural resources, and negatively impacting the character of the visitor's experience.
Regional tourism officials report that the Adirondack Park's total visitors have risen from 10 million in 2001 to more than 12.4 million in 2018. The 9,300-square-mile park is home to 130,000 year-round residents and 230,000 seasonal homeowners. About 80 percent of all visits occur in the six months between May and October.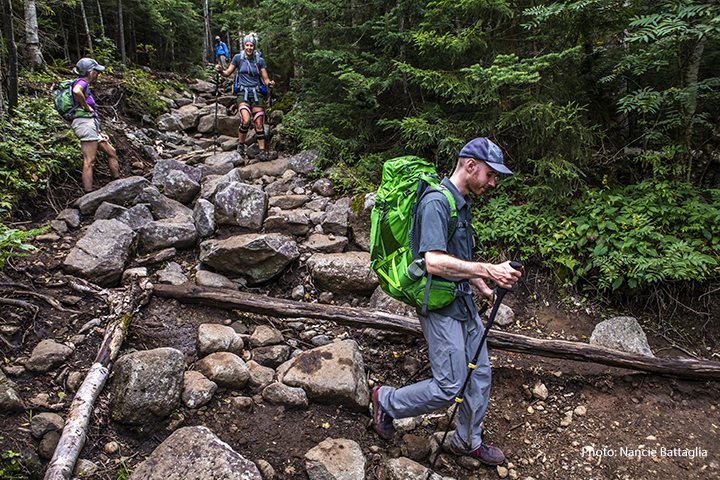 "Governor Andrew Cuomo and his agencies, in contrast with leadership in Washington, have positioned New York as a national leader on the environment, permanently protecting new Adirondack lands and waters while successfully promoting the Park as a world-class outdoor destination," said William C. Janeway, Executive Director of the Adirondack Council. "Sustained success requires some additional management. People love the Adirondack Park, and the High Peaks. Hikers are keenly aware of the problems caused by too many people in one place at the same time. They see the trail erosion, damaged vegetation, trash and human waste. Because of the damage being caused, people are willing to be redirected to new locations and to be educated on how to leave no trace of their visit. There is very strong support for parking limitations and enforcement."
"This is very encouraging and should act as reinforcement for the initial steps the state is now taking to educate hikers, limit parking and redirect traffic on the Route 73 corridor in Keene and North Elba," Janeway said. "People support these efforts and are willing to take things further to ensure that this national treasure has world-class protections in place."
A majority of those surveyed were willing to pay a fee to hike if the money was spent on protection and better management of the Forest Preserve.
The 2017 survey was developed working with the NYS Department of Environmental Conservation and conducted at the Cascade Mountain trailhead in Keene over two days on Columbus Day weekend of 2017. It was conducted by Adirondack Council staff members, in cooperation with the NYS Dept. of Environmental Conservation staff and volunteers from the Adirondack 46ers. A total of 202 hikers stopped and answered a series of questions related to their visits.
When asked why they were climbing Cascade Mountain that day, 96 percent said they wanted a hike with a view; 75 percent wanted to climb a "High Peak;" 62 percent wanted to climb above 4,000 feet; 50 percent wanted the solitude of a wilderness hiker (despite the typical crowds at Cascade's popular roadside trailhead); and, just over 15 percent heard about the hike on social media and decided to try it for that reason. Those conducting the survey found that a significant number of hikers, once educated about the availability of a shorter hike (Mt. Van Hoevenberg) with a great view, chose the non-Wilderness hike that didn't involve trying to climb one of the Adirondack Peaks that rise to over 4,000 feet in elevation.
Hikers support education by a two-to-one margin (58 percent vs. 30 percent), such as requiring all hikers to watch a video on how to hike and camp without damaging the forests, waters or wildlife.
They also supported parking limits by a margin of 68 percent to 20 percent, including enforcement of "no parking" zones outside of parking lots and on roadsides.
Half or fewer of the hikers surveyed were aware that the DEC asks hikers to avoid muddy trails during the spring to prevent damage and protect sensitive vegetation. Yet, a slightly higher number said they personally avoid muddy trails in spring anyway, for the same reason.
Two-thirds of those who responded favored parking limits (73 percent in surveys by the Adirondack Council; 62 percent in surveys collected by the DEC and/or the 46ers).
The Adirondack Council survey also asked hikers whether they would be willing to "pay $10 per person for parking and a shuttle" to and from the old Cascade Mountain trailhead (2 miles closer than the current parking area). Thirty-four percent said yes, while 37 percent said no and 29 percent were undecided.
Despite the limited time available to publicize the temporary relocation of the Cascade Mountain trailhead to the parking lot for the Mt. Van Hoevenberg Sports Complex (about two miles away), 25 percent of the survey respondents had been aware before they arrived.
"Overall, the hiking community loves the High Peaks of the Adirondacks, but is willing to go to other places in order to protect the forests, waters and wildlife of the park," Janeway said. "That is great news, because it reflects a willingness to try new places and reduce the over-use of High Peaks Wilderness trails during popular holidays. It also reflected support for parking limits and even a parking reservation system."
The survey was a preliminary test, with data also collected on how to conduct a larger, more comprehensive survey in 2018, with a smaller margin of error.
The Adirondack Council, after working with university professionals prepared and started to conduct a larger survey in 2018. The Department of Environmental Conservation issued a temporary revocable permit for interviews on state land, but is not the entity that constructed or is fielding the survey.
Preliminary results and 650 interviews find that by more than 2:1 hikers disagree with the statement "overuse is not a problem" and a majority disagrees that "the state should prioritize recreational opportunities and infrastructure over wilderness character and sense of solitude."
Overuse is fast becoming one of the most urgent concerns for the Adirondacks. On popular weekends, a
previously released survey
of the number of cars at High Peaks region parking lots on peak fall weekends found almost 80 percent of 35 trailheads across the High Peaks region are over capacity. Peak daily visitation now tops 5,000 people during these times, more than twice the state's established targeted caps.
Founded in 1975, the Adirondack Council is a privately funded not-for-profit organization whose mission is to ensure the ecological integrity and wild character of the Adirondack Park. The Council envisions a Park with clean water and clean air, comprised of core wilderness areas, surrounded by farms and working forests, as well as vibrant communities.
The Adirondack Council carries out its mission through research, education, advocacy and legal action to ensure the legacy of the Adirondack Park is safeguarded for future generations. Adirondack Council members live in all 50 United States.
For more information:
John Sheehan
518-441-1340 cell
518-432-1770 office
FOR IMMEDIATE RELEASE: Thursday, September 6, 2018