Adirondack Council Awards 19 Grants to Businesses, Farms
ALBANY, N.Y. – The Adirondack Council is investing private funds in the effort to build a climate-friendly Adirondack Park with a low-carbon economy.
For the third consecutive year, the Adirondack Council has awarded micro-grants to farmers and small business owners who want to reduce their environmental impact and adapt to a changing climate.
"We want to help farmers in the Adirondack Park's Champlain Valley, and small businesses in Old Forge, to be climate-friendly, energy efficient and more sustainable," said Adirondack Council Executive Director William C. Janeway. "The Adirondack Park is a unique national treasure. Its priceless clean water, clean air, wildlife, wilderness and communities are threatened by climate disruption. So is our way of life. A few dollars invested wisely now can bring benefits for many generations to come."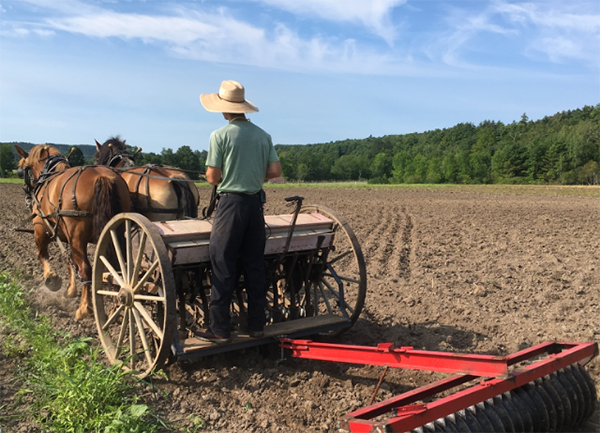 Full and By Farm received $1,000 for maintenance and upgrades to horse-drawn farming equipment.
The Adirondack Park is a 9,300-square-mile mixture of public and private lands that comprise the largest park in the contiguous United States. Its public lands are protected from logging and development by New York's Constitution. Private lands consist of commercial timberlands, resorts, estates, businesses and homes, in and around 130 rural communities, nine of which are incorporated villages. The park has 130,000 year-round residents and hosts 12 million annual visitors.
The Council announced today that it has awarded 19 micro-grants to 15 farms and four small businesses that are also putting their own time and money into making their operations more efficient, less reliant on fossil fuels and more weather-resistant.
Winning projects included solar fencing, rainwater catchment systems, building weatherization and insulation, energy-efficient appliance upgrades, and more.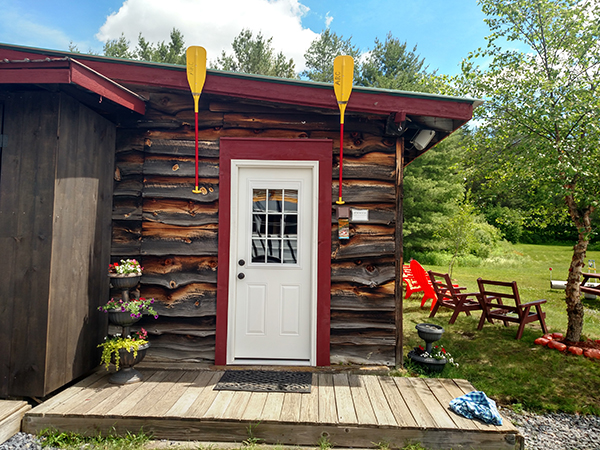 Adirondack Rafting used its $1,500 to insulate doorways.
The organization received 34 completed applications. It awarded $19,600 to 15 Champlain Valley farms and $5,500 to four small business in Old Forge, where the Council's annual Forever Wild Day celebration will be held in July. Just over half the farms and businesses that applied received funding. The Adirondack Council has granted more than $65,000 over three years for 54 projects.
The Council thanked partners who helped recruit applicants. Among those assisting were the Adirondack Foundation, Adirondack North Country Association, American Farmland Trust, Cornell Cooperative Extension and Open Space Institute.
"The success of this grant program was made possible by the generous support of the Klipper Fund and the Lookout Fund," said Janeway. "These grants are laying the foundation for the Adirondack Park's low-carbon future. We thank them for their faith in us and this innovative grant program.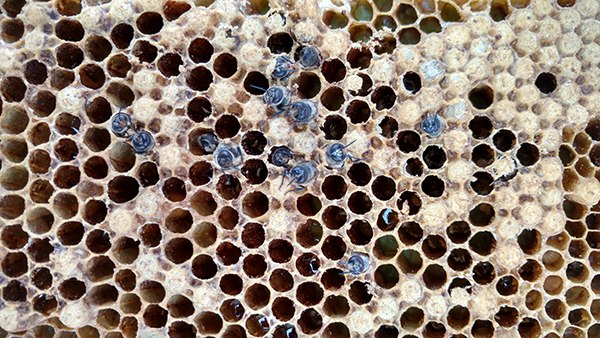 Ben Wever Farm used its $500 grant to purchase beekeeping space and equipment.
"We also thank everyone who has purchased a Carbon Reduction Certificate from our Cool Farm/Healthy Park program," Janeway said. "It's an affordable way for anyone to help farms, businesses, the Park and the world."
The Adirondack Council's 2018 grants include:
Farms (Champlain Valley):
Black Kettle Farm – Essex – $1,500 to purchase a keyline plow to build, aerate and loosen soil for tree planting and to aerate wet pasture land;
Blue Pepper Farm – Jay – $1,300 to add a rainwater catchment system with water storage to the barn for livestock;
Brick House Farm Herbals – Essex – $1,500 to build a swale along a prime agriculture plot location to create a sustainable agriculture utility out of non-agricultural land;
Clover Mead Café & Farm Store – Keeseville – $1,500 to purchase materials to weatherize and insulate doors and windows of the café and farm store, and paint the exterior of the café;
DaCy Meadow Farm – Westport – $1,000 to purchase a solar fence energizer, temporary fencing, and all connectors for a rotational grazing system;
Echo Farm – Essex – $1,500 to install an off-grid solar-powered energy system to power lighting, a display fridge, and a scale within a newly established farm stand;
Essex Farm – Essex – $1,500 to purchase a small-scale solar-powered water pump to be moved around the farm to provide water for animals and irrigation;
Fledging Crow Vegetables – Keeseville – $1,300 to hire an excavator to move nearly 50 tons of compost into piles in order to eliminate dependence on 10 hauls of off-site compost per year;
Full and By Farm – Essex – $1,500 (following a NYSERDA* energy audit) to upgrade lighting and an old freezer, and upgrade and expand chamber lighting with LED grow lights;
Green St. Family Farm & Sawmill – Keeseville – $1,500 to install a solar water pump;
Mace Chasm Farm – Keeseville – $1,500 to purchase an energy efficient poultry scalder;
Staley's Maple Syrup & Farm – Saranac – $1,500 to purchase an energy efficient reverse osmosis system and wood gasification evaporator;
Tangleroot Farm – Essex – $1,500 to purchase greenhouse plastic, vents, fans and additional hardware and hire additional labor to complete a high tunnel project;
Triple Green Jade Farm – Willsboro – $500 to purchase solar electric fencing for a moveable chicken coup to produce organic eggs; and,
Woven Meadows Farm – Saranac – $500 for walk-in cooler improvements.
Small Businesses (Old Forge):
Adirondack Woodcraft Camps – Old Forge – $1,500 to upgrade to energy efficient kitchen appliances;
Hemmer Cottage – Old Forge – $1,500 to add cellulose insulation to preserve an historic building;
Old Forge Hardware & Furniture Co. – Old Forge – $1,500 to install an insulated fiberglass door; and,
The Toboggan Inn – Old Forge – $1,500 to install 13 energy efficient windows.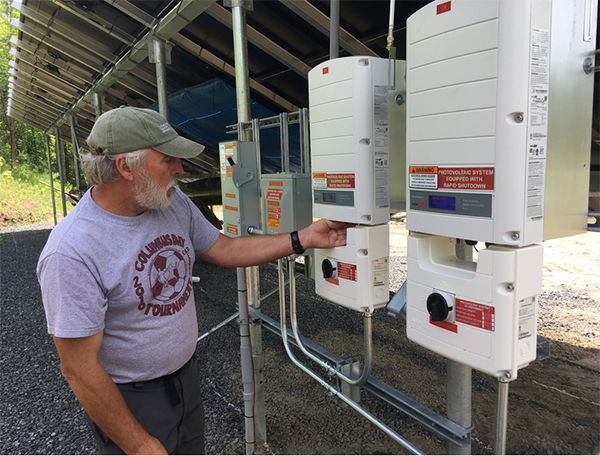 Cloud-Splitter Outfitters received $1,500 to help fund a solar installation project (pictured: Dave Olbert, owner)
Anyone Can Help
In addition to generous grants from the Klipper Fund and the Lookout Fund, the Council supports the micro-grants program through the sale of Carbon Reduction Certificates.
The purchase of a $25 Carbon Reduction Certificate allows the buyer to fund future micro-grants and reduce the regional carbon pollution cap. For every $25 donated, the Adirondack Council will multiply the positive impact of the micro-grants by permanently retiring one carbon emission allowance from the Regional Greenhouse Gas Initiative.
NYSERDA: New York State Energy Research and Development Authority.
For more information:
John Sheehan
518-441-1340 cell
518-432-1770 ofc
FOR IMMEDIATE RELEASE: Wednesday, April 18, 2018