Updated Iconic Adirondack Map Reflects Conservation Wins
New Forest Preserve, Conservation Easements Mark Successful Park Protection
ELIZABETHTOWN, N.Y. – The Adirondack Council today released a new edition of its poster-sized wall map of the Adirondack Park, showing newly acquired public Forest Preserve including the Boreas Ponds and identifying lands protected by NYS conservation easement, encircled by vivid illustrations of 11 of the Park's major ecosystems and the plants and animals that inhabit them.
Due to rapid progress in acquiring and protecting forest lands and waters in the Adirondack Park, this is the third major revision of the map in fewer than 30 years, the environmental organization noted. Click HERE to view larger image of map.
Since 1990 over 800,000 acres of new Forest Preserve and lands managed under a conservation easement have been protected in the Adirondack Park. The Forest Preserve grew from 2.6 million acres to more than 2.8 million acres, while private lands conserved under state easements rose from fewer than 50,000 acres to 785,000.
Clearly, the Park -- and thus any map of the Park -- remains a work-in-progress.
"Much has changed since we issued the Second Edition of our map in 2007," said Adirondack Council Executive Director William C. Janeway. "Governor Cuomo and previous administrations worked with private land trusts such as The Nature Conservancy and Adirondack Land Trust, to acquire lands and waters now protected as part of the 'forever wild' public Forest Preserve. New tracts include Boreas Ponds and the Essex Chain Lakes. Other Forest Preserve units have been added, consolidated and renamed.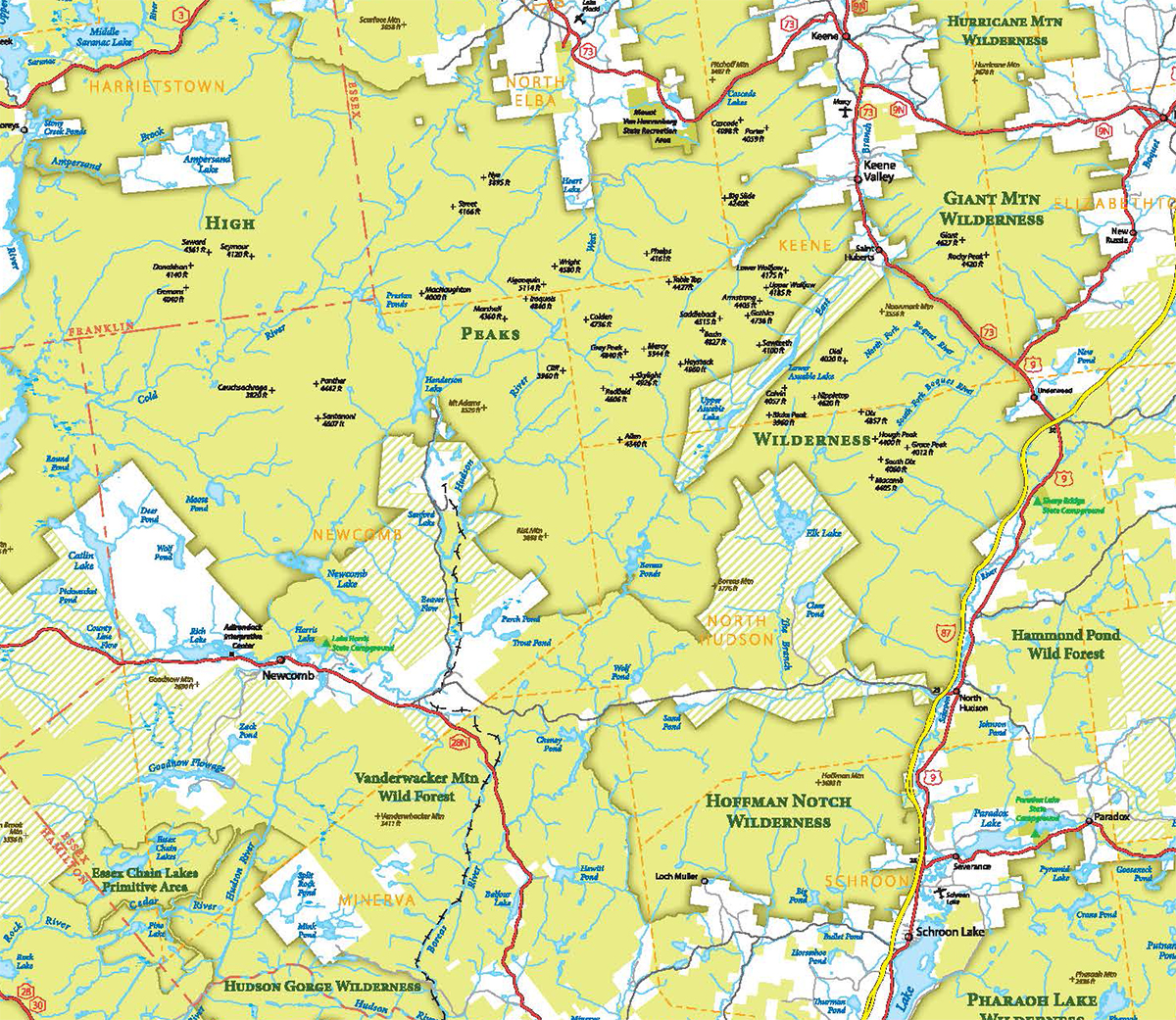 "Meanwhile, conservation easements have become a common method for preserving private, working forests," he said. "The new map includes nearly 800,000 acres of forest protected from development by state conservation easements between 1983 and now, some of which are open for public recreation.
"What didn't change on our Third Edition are Anne Lacy's brilliant illustrations of native plants and wildlife," Janeway said. "They make it a great learning tool for visitors, seasonal residents and students. All of the plant and animal species are labeled with their common names and shown in their native habitat."
The map is 35 inches wide and 43 inches long. It sells for $25, or $40 laminated.
Created in 1892, the Adirondack Park encompasses the world's largest intact, temperate, deciduous forest. It also is the largest park in the contiguous United States. Within the Park are more than 2.7 million acres of public Forest Preserve, protected by the NYS Constitution, which requires them to be "forever kept as wild forest lands."
In addition, the Park contains millions of acres of private timberlands, farms, estates, resorts, 130,000 year-round residents and 130 small, rural communities.
"While the update of the iconic map is a celebration of conservation success as traditionally measured, by acres protected from development, new threats put the Park's wild character, ecological integrity and small communities at risk," Janeway said. "Climate change, invasive species, overuse, pollution, outdated legal protections and underfunded and understaffed state land stewardship efforts threaten preservation of the Adirondacks for future generations."
Since 2007, the state has acquired tens of thousands of acres of private land inside the Park boundary, converting it into public Forest Preserve lands. Most of the newest public lands and new conservation easements came from The Nature Conservancy's purchase of the former Finch, Pruyn & Company's holdings. Other acquisitions included lands previously acquired by the Open Space Institute, the Conservation Fund and other land-saving organizations.
"The Adirondack Council's first big wall map was published in 1994," he said. "This was about the same time that we published 2020 VISION recommendations for completing the Forest Preserve. It has been a pleasure to mark the state's progress since then in protecting what experts recommended for protection."
The Pataki administration embarked on an ardent campaign to protect one million acres of land statewide, including hundreds of thousands of acres in the Adirondack Park, much of it via conservation easements. In addition, Pataki purchased and classified lands to create the William C. Whitney Wilderness Area and Round Lake Wilderness Area.
That first map had changed so drastically by 2007, the Council published a new one that year. Now, just 12 years later, the printing presses are rolling again.
"That is a testament to the progress New York continues to make in acquiring lands that deserve to be part of the Forest Preserve, and to the progress made in protecting private forests from development," Janeway said. "Adirondack Council members and many partners have played an important role in reminding the state of its obligations to act when opportunities arise."
More than two-thirds of the lands recommended in 2020 VISION for protection as biological reserves, motor-free Wilderness and non-Wilderness lands have been protected, Janeway noted.
In some cases, forests and waters have been protected under excellent stewardship plans created and administered by forward-thinking private landowners. Other tracts were protected through State ownership, through conservation easements held by the state, individuals or organizations, and through other less permanent methods. Overall, 687,900 acres out of 907,300 acres the Council recommended now have some form of legal protection against subdivision and development, Janeway noted.
Chief among the more recent acquisitions were Boreas Ponds and tens of thousands of acres around the existing High Peaks Wilderness Area, which allowed it to be greatly expanded and consolidated with the Dix Mountain Wilderness to its east. The combined motor-free area is larger than Rocky Mountain National Park.
Unlike national parks, however, Janeway said the Adirondack Council's recommendations for completing the Forest Preserve don't include buying-up the whole Park.
It is vital that the park retains dozens of small communities and private forest lands, he said. Because they are intermixed with the park's strictly preserved public forests, the resulting mix protects the Park's rich diversity of plants and wildlife.
Communities are the park's cultural centers, each with its own unique history, architecture and personality. They also make the park easier to manage, visit and explore, he said. Communities should remain a permanent part of the Adirondack landscape, he said.
Illustrations on the Adirondack Council's educational poster map were completed by Anne E. Lacy (1951-2002).
The Adirondack Council is a privately funded not-for-profit organization whose mission is to ensure the ecological integrity and wild character of the Adirondack Park. The Council envisions a Park with clean water and clean air, comprised of core Wilderness areas, surrounded by farms and working forests, as well as vibrant communities.
The Adirondack Council carries out its mission through research, education, advocacy and legal action to ensure the legacy of the Adirondack Park is safeguarded for future generations. Adirondack Council members live in all 50 United States.
For more information:
John Sheehan, Adirondack Council, 518-441-1340 cell
FOR IMMEDIATE RELEASE: Monday, Jan. 14, 2019