Successes Top State of the Park Report | State Mostly Moving in Right Direction with Boreas Ponds, Oil Trains, Overuse; Feds Not
ELIZABETHTOWN, N.Y. – The state added the Boreas Ponds to an expanded High Peaks Wilderness Area, evicted an oil train junkyard from the Adirondack Park this year, and started to address overuse of public lands, but federal action is threatening to roll back decades of progress on the air pollution that causes acid rain and smog.
The state's successes in preserving the Adirondack Park in 2018 have reaffirmed the Park's status as a "National Treasure," according to the Adirondack Council's State of the Park Report 2018-19. The Adirondack Park deserves renewed efforts to preserve its pure waters, healthy forests, abundant wildlife, wilderness character and historic communities, the report states.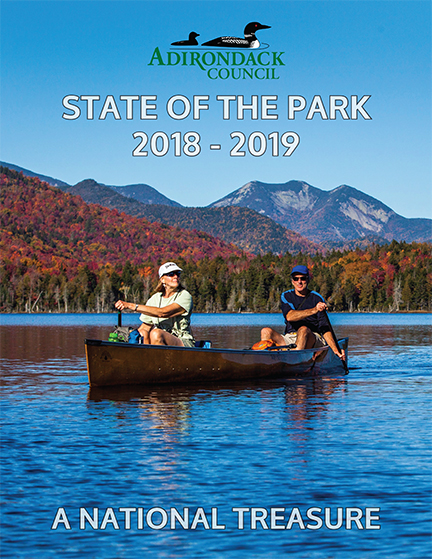 State of the Park Report 2018-19 is a 24-page, illustrated report card that is widely recognized as the most trusted and frank annual analysis of actions and decisions by local, state and federal officials that impact the Park. Each action is rated "thumbs up" or "thumbs down," along with a detailed explanation of how it helped or harmed the Adirondacks. The Council has been publishing this comprehensive report annually since 1981.
"Governor Cuomo included the Boreas Ponds and several other major tracts in his 80,000-acre expansion of the High Peaks Wilderness Area this year," said William C. Janeway, Executive Director of the Adirondack Council, the park's largest environmental organization. "In addition, the Governor, Comptroller, Attorney General, towns, and our two U.S. Senators joined with Warren Buffet to remove an oil train junkyard from the Adirondacks. The Governor's investment in tourism helped bring the number of park visitors to a record 12.4 million, helping the economies of the park's 130 small communities."
"That success attracting more people to the Adirondacks is contributing to overuse," said Janeway. "More attention, staff and investment will be needed to prevent this influx from causing harm to the park's fragile environment and growing tourism economy."
"Washington was much less kind to the Adirondack Park this year," Janeway explained. "The Federal government is failing to ensure compliance with clean water and clean air laws critical to protecting the Park's environment and public health. The Trump Environmental Protection Agency has moved backwards on air pollution, acid rain, smog, and climate change.
"The only highlight was that Congress refused to go along with the Trump administration's plans to cut EPA's budget for acid rain scientific research and monitoring in the Adirondacks," he said. "New York's Congressional delegation showed bi-partisan support for EPA's acid rain research as well. Sen. Charles Schumer made a special trip to Bear Pond to highlight its recovery from acid rain and to remind EPA what is at stake when clean air laws aren't enforced.
"Governor Andrew Cuomo and state agencies, the state Comptroller and Attorney General's offices, in contrast with leadership in Washington, have positioned New York to be a national leader on the environment," said Janeway.
Janeway said a deeply divided State Legislature left some priorities unaddressed.
Last fall, voters rejected a Constitutional Convention that could have threatened the "forever wild" clause (Article 14, Section 1) that protects the Forest Preserve from exploitation. Voters also approved a Constitutional Amendment to create a modest 250-acre land swap for roadside community safety, utility and telecommunications projects. But the Legislature couldn't agree on a bill that would allow local governments to use it, such as for replacement of the Middletown Bridge in the Town of Horicon, Warren Country, he said.
Legislation was proposed that would have improved the Adirondack Park Agency's ability to protect water quality, forest health and wildlife on the Park's most remote and sensitive private lands. It had bi-partisan support and was the subject of an Adirondack Common Ground Alliance drafting effort, but failed to pass. In addition, six of the APA's eight citizen board members are serving on expired terms. Two of the six have resigned. The Governor nominated no replacements or reappointments.
The Governor and Legislature agreed to keep the state's Environmental Protection Fund at $300 million for environmental projects, for the third consecutive year, but didn't increase it. The state continued to provide significant funding for new clean water projects from a $2.5-billion appropriation. The Senate provided an additional $250,000 for Adirondack research and monitoring. But, the Department of Environmental Conservation and Adirondack Park Agency staffing and non-personnel funding is still 25 percent below 2008 levels, he said.
State of the Park Report 2018-19 looks back at the priorities established in 2017 and evaluates each. The report also sets seven priorities for 2019. These are: 1) addressing overuse with a comprehensive effort that includes more staff and peak use management; 2) promoting clean water, clean air and clean energy; 3) protecting Forever Wild; 4) preserving forests and farms; 5) making appointments at and helping the Adirondack Park Agency fulfill its mission; 6) strengthening protections against invasive species, and; 7) expanding funding for Adirondack conservation and Park focused staff.
Founded in 1975, the Adirondack Council is a privately funded not-for-profit organization whose mission is to ensure the ecological integrity and wild character of the Adirondack Park. The Council envisions a Park with clean water and clean air, comprised of core wilderness areas, surrounded by farms, working forests and vibrant communities. The Adirondack Council carries out its mission through research, education, advocacy and legal action to ensure the legacy of the Adirondack Park is safeguarded for future generations. Adirondack Council members live in all 50 United States.
For more information:
John Sheehan, Adirondack Council, 518-441-1340 cell
FOR IMMEDIATE RELEASE: Wednesday, Sept. 19, 2018