Permit System, More Money & Comprehensive Plan Desired to Stem Overuse of High Peaks Wilderness Area
State's Partners and Other Stakeholders Support New Approaches, Measures
KEENE VALLEY, N.Y. -- Comprehensive planning, better funding and a pilot program for permits were the leading tools identified by participants in a state-sponsored stakeholder forum who met recently to tackle the problems associated with overuse of the Adirondack Park's most popular hiking trails.
The meeting was held by the NYS Department of Environmental Conservation (DEC), which convened about 60 partners and stakeholders from across the Park.The main focus was on the heavily traveled central portion of the High Peas Wilderness Area, where the state's tallest mountains are located.
"Clear consensus emerged on the need for a comprehensive plan, the money to carry out the plan and a pilot program for permits," said Julia Goren, Adirondack Vision Project Director for the Adirondack Council. "A comprehensive plan is needed to address each of the challenges, goals, and strategies in a holistic manner. Planning was identified as a vital need in every topic discussed. Planning takes money, which was also at the top of stakeholder requests. Money has been in short supply for trail improvements or even basic maintenance. By far, the most popular single tool identified by the participants was a pilot program for permits."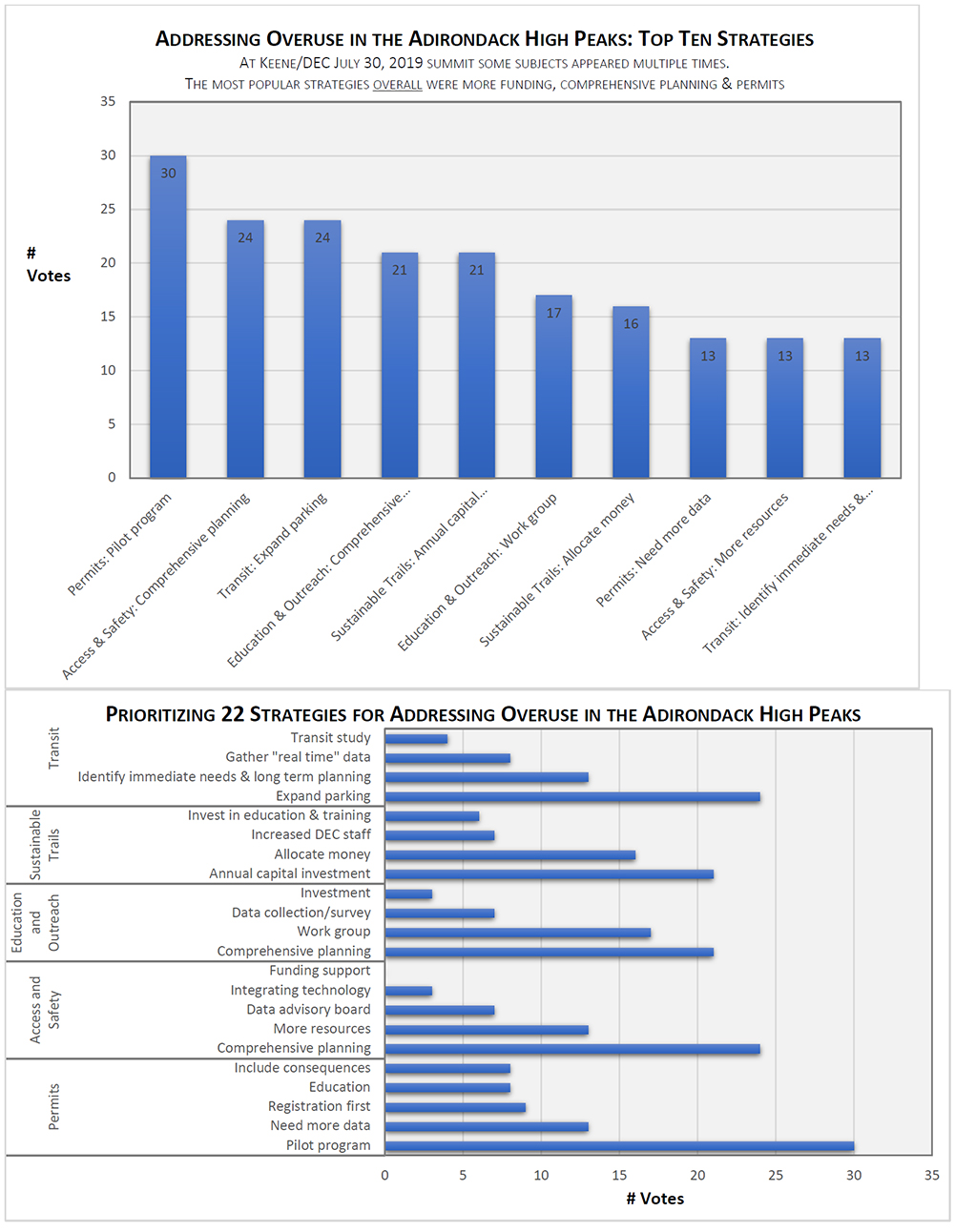 Goren noted that the state's comprehensive plan to address overuse must address these challenges not only as they impact the High Peaks, but as they affect other areas, Goren said.
"The strategies proposed by the DEC to date are many of the pieces that would fit within a comprehensive plan, but have not yet been woven together," she noted. "Each segment, and the whole, would be strengthened by knitting them together under a broader framework. A second area of broad consensus was a need for increased funding and resources, whether on the subject of trails, staff, partnerships to accomplish educational objectives, or research."
A third area of consensus was a need to start testing ways to limit overuse at some locations and at some times, she said. "Piloting a permit system was supported via an informal vote by a majority of the participants," she said.
Finally, participants identified a need for good data to base decisions upon, Goren explained. At the conclusion of its meeting, the DEC committed to continuing to update stakeholders, to refining their strategies and plans, and to moving the process forward.
"Overuse offers challenges that will not go away without a sustained effort by the DEC and many partners," Goren said. "Many actions have been taken by the DEC to date to address this problem, and these are positive steps. But the challenge is complex and will require a long-term investment of time, resources, and energy. The Adirondack Park deserves no less -- it is a national treasure.
"With planning, effort, and proper implementation, a comprehensive trail and visitor management plan for the Adirondacks can serve as a model for stewardship of public lands around the world," she said.
The Adirondack Council has proposed a parking reservation system that could be used to limit visitors to overuses locations by limiting the legal parking spaces. Goren is leading the Council's Vision Project, which is a comprehensive plan for the protection of the Adirondack Park in the 21st Century. It is an update and extension of the Council's award-winning 2020 VISION plan for the completion of the Adirondack Forest Preserve and conservation of private timberlands.
The Council has more recently completed research identifying 130 miles of High Peaks Wilderness Area trails in need of maintenance and reconstruction; a similar number of trail miles where the slopes are too steep to be sustainable; dozens of overcrowded parking lots at popular trailheads; hiker-opinion surveys revealing a desire for less crowded conditions, better maintenance and better public education about alternative hiking opportunities.
The Adirondack Council is a privately funded not-for-profit organization whose mission is to ensure the ecological integrity and wild character of the Adirondack Park. The Council envisions a Park with clean water and clean air, comprised of core wilderness areas, surrounded by farms and working forests, as well as vibrant communities.
The Adirondack Council carries out its mission through research, education, advocacy and legal action to ensure the legacy of the Adirondack Park is safeguarded for future generations. Adirondack Council members live in all 50 United States.
For more information:
John Sheehan, Director of Communications, 518-441-1340
FOR IMMEDIATE RELEASE: Monday, Aug. 12, 2019