Adirondack Hiking Trails Don't Meet Design Standards
Digital Analysis Shows 56% of Slopes Exceed Erosion, Weathering Thresholds
ELIZABETHTOWN, N.Y. – More than half of the trail mileage in the Adirondack Park's central High Peaks Wilderness Area is too steep to remain stable and fails to meet the modern design standards for sustainable trails that apply to other state and federal lands, according to a new analysis funded by the Adirondack Council.
"It's well known that Adirondack foot trails are in crisis with overuse and huge crowds of people hiking on these too-steep slopes," said Adirondack Council Executive Director William C. Janeway. "We are seeing wider paths, deeper ruts, trampled plants plus loss of wildlife habitat. Too much soil is moving downhill into streams and lakes.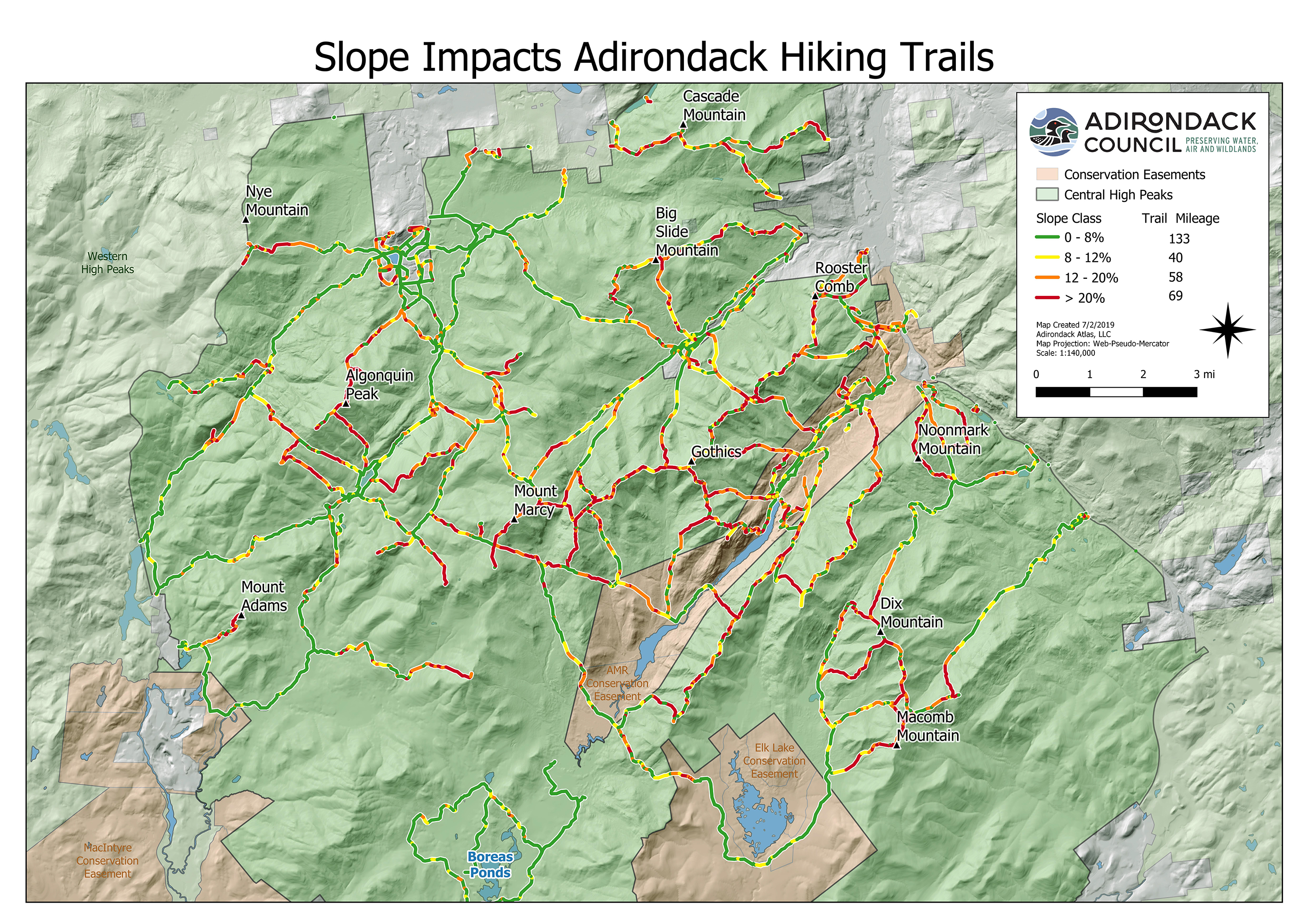 Click on map to enlarge

"The problem is fixable," he explained "Redesign, reconstruction and strategic hardening of some surfaces with natural materials will help. The state and trails professionals in the Adirondacks know what to do, if given the resources. Not every trail, nor every foot of trail, is in crisis. But the majority of the trail mileage is, and the problem isn't limited to the High Peaks.
"Step one is assessing the amount of work to be done," he said. "This analysis shows it's a big job. The next step is a comprehensive plan, an estimate of the budget needed to fix the problems. We need a commitment to invest in the plan now and to keep investing in the years ahead."
Janeway noted that the trails leading to the summits of the state's highest and most popular peaks were rarely built to the same standards as trails in national parks, or even state parks outside of the Adirondack and Catskill parks. Some current Adirondack and Catskill trails can be traced to early 19th Century and were cut by early European settlers, trappers, hunters and, eventually, outdoor guides, survey crews, state crews, volunteers and hiking clubs.
Most of those trails follow paths of least resistance, or the shortest possible route, which often means a stream bed or its shore, straight up the mountainside. That means rain or melting snow will bring a rush of water and rapid weathering of disturbed rock and soil. In many places, trails can seem to be nearly vertical, Janeway explained. Such trails are hard to climb and can be hazardous to the climber.
"We have identified 167 miles of trails in the middle of the High Peaks Wilderness whose slopes exceed eight percent, meaning they climb more than eight feet in elevation for every hundred feet of distance they cover," he said. "In some places around the country with better soils and drainage, trails can be sustainable at an average maximum grade of 10 percent, if they satisfy other criteria.
Measurements of Adirondack trails find that erosion starts when even small sections of trail exceed the eight-percent threshold. This is especially in the high country of the Adirondacks, where soils are organic and thin and vegetation is too fragile to handle the current volume of foot traffic without being damaged.
The Adirondack Council analyzed 300 miles of trails in the busy central portion of High Peaks Wilderness Area. Only 133 miles were at a grade of eight percent or below. Many of those lower grade sections lack proper drainage and get muddy when it rains.
Eight-Percent Slope
A slope of eight percent is too steep for an interstate highway (max. 6 percent), unless yellow warning signs and permanently reduced speed limits are in place. For example, the Adirondack Northway traverses more than 100 miles of the Adirondack Park without any permanent speed reductions for slope alone. Slopes above 8 percent are too steep for public wheelchair ramps (NYS building code) and for emergency vehicles such as fire trucks, even on paved surfaces.
Out of the 300 studied, about 40 miles of trails have a slope between 8 and 12 percent.
12-Percent is Steeper than Bobsled Run
About 58 miles of trails have a slope of 12 to 20 percent, which is steeper than an Olympic bobsled run (Beijing's track averages 9.8 percent; Lake Placid 9.35; St. Moritz 8 percent) and steep enough for an expert downhill ski trail.
Above 20-Percent Slope like Ski Run, Staircase
About 69 miles of trails have slopes of 20 percent or more. Whiteface Mountain Ski Center's Cloudspin Trail is 26 degrees. The Rumor Trail at Gore Mountain Ski Center is 25 degrees. A slope of 30 percent is equal to a residential staircase.
Steep Slope & Poor Conditions Coincide
In 2018, the Adirondack Council released a map and analysis of the central High Peaks Wilderness Area's trails, showing where trails professionals, familiar with the Adirondacks, believed the trails were in poor enough condition to require redesign and/or reconstruction.
All trails need annual maintenance. That survey identified about 130 miles of trails that were in such poor condition that they were good candidates to be redesigned and rebuilt.
"It isn't mere coincidence that the number of miles of trails that are too steep is very similar to the number of trail miles that need to be rebuilt," Janeway said. "It is good to have the cross-confirmation of trails professional's opinions and a digital geographic data system analysis."
The Council noted that the NYS Dept. of Environmental Conservation (DEC) had made some great progress recently by redesigning the north trail up Mount Van Hoevenberg. A new two-mile trail was designed with generally sustainable grades.
The trail was opened in 2018, with about a mile of the two miles built. Work has also begun designing and cutting a new proposed sustainable trail on Cascade Mountain, which will eventually reach about five miles in length. The trail up Coney Mountain in Tupper Lake was redesigned and rebuilt, and the principle trail up Hurricane Mountain was recently relocated as well, he said.
Janeway said the Adirondack Park's continued success requires the state to engage all six of the best practices identified by the DEC at recent meetings on the High Peaks trails:
Comprehensive Planning
Education and Outreach (advertising, news releases)
Front country infrastructure (parking, restrooms, information)
Back Country infrastructure (well designed and maintained trails, campsites, etc.)
Limits on Use, at some locations at some times
Personnel (More planners, land managers, trails crews, rangers, etc.)
The Adirondack Council is a privately funded not-for-profit organization whose mission is to ensure the ecological integrity and wild character of the Adirondack Park. The Council envisions a Park with clean water and clean air, comprised of core wilderness areas, surrounded by farms and working forests, as well as vibrant communities.
The Adirondack Council carries out its mission through research, education, advocacy and legal action to ensure the legacy of the Adirondack Park is safeguarded for future generations. Adirondack Council members live in all 50 United States.
For more information:
John Sheehan, Director of Communications, 518-441-1340
FOR IMMEDIATE RELEASE: Tuesday, July 2, 2019