Adirondack Council to Honor Former Board Chairs, Celebrate 40th Anniversary at Forever Wild Day at Heaven Hill Farm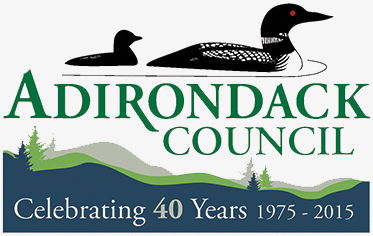 For more information:
John F. Sheehan
518-441-1340 (cell)
518-432-1770 (ofc)
FOR IMMEDIATE RELEASE, Tuesday, July 7, 2015
ADIRONDACK COUNCIL TO HONOR FORMER BOARD CHAIRS, CELEBRATE 40TH ANNIVERSARY AT FOREVER WILD DAY AT HEAVEN HILL FARM
Eleven to Receive 'Conservationist of the Year' Awards
LAKE PLACID, NY. – The Adirondack Council will celebrate its 40th Anniversary on Saturday, July 18, by honoring all 11 chairs of its board of directors, naming each as Conservationist of the Year at Heaven Hill Farm.

"We will be celebrating all of the Council's leaders, each of whom has contributed significantly to conservation successes in the Adirondacks, while helping us to grow and improve as an organization," said Adirondack Council Executive Director William C. Janeway. "At the end of our fourth decade, we are looking back to recall some of what they have done for us and to honor their legacy.

"Each of our board chairs has been a remarkable individual with a long list of accomplishments aside from his or her leadership of the Adirondack Council," Janeway noted.

"Each has been a volunteer, working without compensation to better the Adirondacks.

"Several have taken on leadership positions in other regional and national organizations, or held important government jobs, while working to protect the pure water, wilderness and communities of the Adirondack Park," he said. "We are grateful to all of them."

Adirondack Council board chairs have great influence over the organization, working closely with the staff as a liaison and chief advisor to the executive director, while guiding the policymaking duties of the full board.

The Adirondack Council's annual Forever Wild Day celebration will include a luncheon and outdoor activities. Click HERE for more information.

Over the past 40 years, the Adirondack Council's research, education, advocacy, legal actions, in collaboration with other organizations and government officials, have:


Created the blueprint for completing the Adirondack Forest Preserve with our four-volume 2020 VISION research series;
Successfully urged the state to expand the "forever wild" Forest Preserve by more than 400,000 acres to over 2.8 million total acres;
Secured the classification of eight new motor-free Forest Preserve areas including William C. Whitney Wilderness, Round Lake Wilderness, Hudson Gorge Wilderness, and Hurricane Mountain Wilderness, as well as the Essex Chain Lakes Primitive Area, Madawaska Flow Primitive Area and Boreal Primitive Area;
Established a state conservation easement program that has permanently protected from development over 700,000 acres of private forests;
Slashed the air pollution that causes acid rain by more than 50 percent, or by about 10-million tons/year nationwide; and, restored clean water and healthy loon habitat to dozens of Adirondack lakes and ponds;
Added over 1,000 miles to NYS Wild, Scenic and Recreational Rivers Program;
Raised $4 billion for conservation via bonds (1986 and 1996) and NYS Environmental Protection Fund (1993);
Eliminated dangerous and ineffective black fly control programs that threatened birds, bees and people by spraying toxic pesticides from airplanes; and, ushered in a Park-wide switch to non-toxic black fly controls;
Protected scenic vistas from ugly towers, while steadily improving telecommunications across the Park;
Established a policy barring off-road motorized recreation from Forest Preserve trails;
Banned sale of small lead sinkers to protect water, wetlands and birds;
Pioneered a Regional Greenhouse Gas Initiative to reduce carbon emissions by more than 50 percent by 2020; and, further reduced RGGI's Northeast carbon cap by buying & retiring 12,860 tons by July 2015;
Established Smart Growth grants for sustainable community development;
Established a $200-million community clean water infrastructure loan and grant fund;
Created programs to fight and prevent invasive species on land and in water;
Encouraged state promotion and branding for Adirondack tourism and businesses in an effort to spur sustainable employment;
Established new state funding for stewardship of state lands;
Created a national model for cooperation review of military training on/over parks;
Established significant penalties for timber theft from the Forest Preserve; and,
Helped 130 communities retain $75 million in annual state property tax payments for the Forest Preserve that were threatened by a lawsuit and a proposed executive action.
The Adirondack Council's 11 board chairs are:
R. Courtney Jones (1975 to 1977); Harold A. Jerry (1977 to 1980); Frances Beinecke (1980 to 1985); Christopher "Kim" Elliman (1985 to 1989); Barbara L. Glaser (1989 to 1991); Peter Borrelli (1991 to 1995); John Ernst (1995-1999); David Skovron (1999 to 2003); Patricia Winterer (2003 to 2007); Brian Ruder (2007 to 2011); Ann Carmel (2011 to 2015).

The Adirondack Council's first Conservationist of the Year award was presented in 1984.

Each year, the Conservationist of the Year award is presented by the Adirondack Council Board of Directors to a person or organization that has made an exemplary contribution to the Park's well-being. This year the award is being presented individually and collectively to all eleven of the former chairs (or their family).

Previous Conservationist of the Year award winners include:
The Marshall family; U.S. Environmental Protection Agency Administrator Lisa Jackson; the Adirondack Park Invasive Plant Program; Governors George E. Pataki and Mario M. Cuomo; New York Times editor John Oakes; NYS Attorney General Dennis Vacco, NYS DEC Commissioners John P. Cahill and Erin Crotty; Senate EnCon Chairman Carl Marcellino, Assembly EnCon Chairmen Richard Brodsky and Maurice Hinchey; Adirondack Park Agency Executive Director Robert Glennon; Adirondack environmental activists, including Peter Borrelli, the late Clarence Petty, the late Paul Schaefer and the late State Senator and Public Service Commission Chairman Harold Jerry; John and Margot Ernst of Elk Lake; and, Adirondack Harvest.

The Adirondack Council is a privately funded not-for-profit organization whose mission is to ensure the ecological integrity and wild character of the Adirondack Park. The Council envisions a Park comprised of core wilderness areas, surrounded by farms and working forests, as well as vibrant, local communities.

The Council carries out its mission through research, education, advocacy and legal action. Adirondack Council members live in all 50 United States.