Adirondack Council Thanks Retiring Essex County Board Chair Douglas for Rebuilding Communities After Storms Irene, Lee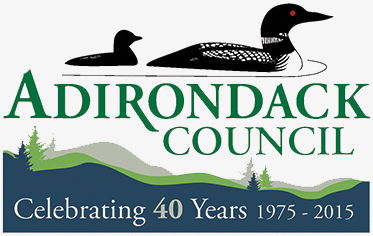 Adirondack Council Thanks Retiring Essex County Board Chair Douglas for Rebuilding Communities After Storms Irene, Lee
Council Director Also Addresses Board on Opportunities for Water, Sewer Grants
For more information:
John F. Sheehan
518-441-1340 (cell)
518-432-1770 (ofc)
FOR IMMEDIATE RELEASE, Monday, May 11, 2015
ELIZABETHTOWN, N.Y. – The Adirondack Council today congratulated retiring Essex County Board of Supervisors Chairman Randy Douglas for his work in the wake of major storms Irene and Lee to rebuild flooded, local communities and help them become more resilient, while urging the entire board to investigate opportunities to obtain new state grants to improve drinking water and wastewater systems across the Adirondack Park.

"Randy was a steadfast leader the effort to help our flood ravaged communities cope with the immediate damage and rebuild their infrastructure to better withstand the consequences of a changing climate," said Adirondack Council Executive Director William C. Janeway. "He worked well with federal officials to arrange buyouts of homes and businesses that were destroyed by those storms and relocate them to safer places. This will also help to prevent water pollution during future storms.

Janeway's comments came as he addressed the full Essex County Board of Supervisors Monday morning. In addition to his praise of Douglas, he urged the assembled officials who want to upgrade their drinking water and sewage treatment systems to take advantage of a new state fund.

"We worked very hard along with many partners during this legislative session to persuade the Governor and Legislature to create a fund of money to help small communities deal with the big expense of updating their clean water infrastructure," Janeway said. "The Adirondack Park hosts about 10 million visitors a year and this is vital to the state's tourism economy.

"But many of the Park's 130 small, rural communities cannot afford the multi-million-dollar repairs and upgrades needed to keep their drinking water pure and their lakes and rivers clean," he explained. "Even with zero-interest, long-term loans, our small communities need additional help to avoid placing a massive debt burden on local taxpayers. This program was designed to provide that help."

Janeway said the Adirondack Council would encourage communities across the Park to seek the grants.

The Adirondack Council's mission is to ensure the ecological integrity and wild character of New York's six-million-acre Adirondack Park. The Council envisions an Adirondack Park with clean water and clean air, comprised of core wilderness areas, surrounded by working forests and farms, and vibrant rural communities. Adirondack Council members live in all 50 United States.
Click to see list of eligible drinking water projects and wastewater treatment projects, showing which communities already qualify for EFC funding and are therefore likely to be eligible for the new grants.