Adirondack Council Lauds NYS Senate Encon Chairman Kaminsky with "Adirondack Defender" Award
Organization Thanks Senator for Standing Up for Adirondack Park in First Session
LONG BEACH, N.Y. -- The Adirondack Council has presented an award to Senate Environmental Conservation Committee Chairman Todd Kaminsky, D-Long Beach, for protecting the Adirondack Park and defending the integrity of the Adirondack Park Agency during the 2019 Legislative Session.
"It is my great pleasure to present this Adirondack Defender Award to Senator Kaminsky for his efforts to protect and preserve the legacy of the Adirondack Park," said Kevin Chlad, Director of Government Relations for the Adirondack Council, as he presented the Senator with a large-format, framed photograph of an Adirondack landscape. "The Senator exhibited both leadership and grace under pressure. People who love the Adirondack are grateful for those efforts."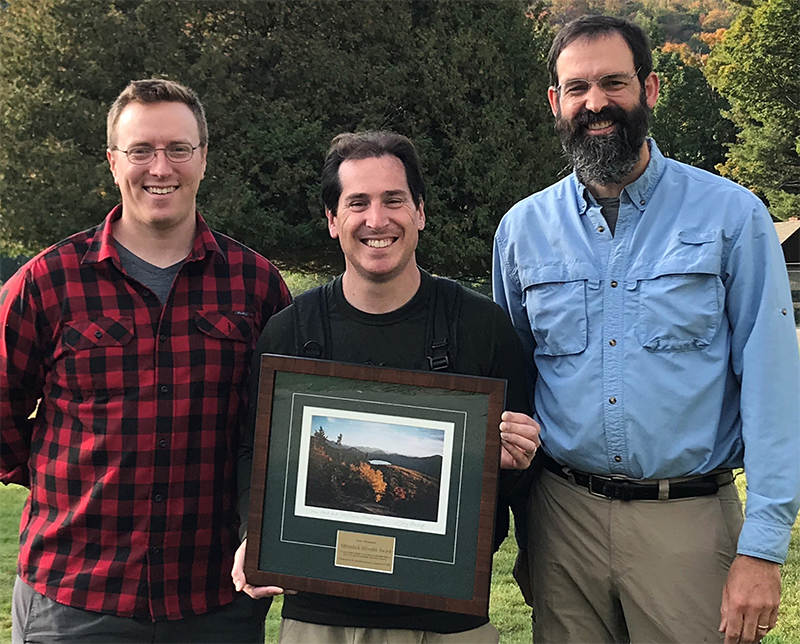 L-R, Adirondack Council Dir. of Government Relations Kevin Chlad, Senator Todd Kaminsky, D-Long Beach,
and Adirondack Council Executive Director William C. Janeway, in the Adirondack Park, in September.
One of the highlights of the session was Kaminsky's support for filling the Adirondack Park Agency's decision-making board with a full slate of candidates having diverse backgrounds and expertise. Seven of the eight citizen members of the board have either left office or are serving on expired terms of office. We are hoping that a slate of candidates meeting this criteria will be advanced by the Governor.
Adirondack conservation organizations have been disappointed in the Park Agency's decision-making over the past several years, criticizing its refusal to require wildlife studies and clustered development when reviewing subdivision plans in the Park's most remote locations. Legislation has been proposed that would require the agency to favor wildlife protection in all future subdivision permit reviews.
"Rather than accept a partial slate of candidates – one that didn't include expertise in land-use planning, wilderness preservation or conservation law – Senator Kaminsky stood his ground," Chlad said. "He demanded a full slate, without opposing the individuals nominated, so the board as a whole has all of the kinds of experience and skills that are required."
The Adirondack Council is a privately funded not-for-profit organization dedicated to ensuring the ecological integrity and wild character of the Adirondack Park. The Council envisions a Park with clean water and clean air, comprised of core wilderness areas, surrounded by farms and working forests, and vibrant communities.
The Adirondack Council carries out its mission through research, education, advocacy and legal action to ensure the legacy of the Adirondack Park is safeguarded for future generations. Adirondack Council advocates live in all 50 United States.
For more information:
John Sheehan, Director of Communications, 518-441-1340