Adirondack Council Congratulates the Towns of Thurman on New, Adirondack Park-Friendly Broadband Network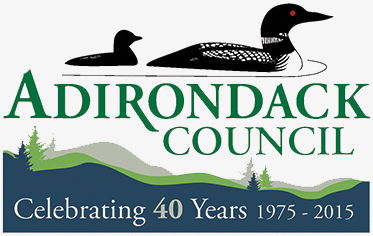 For more information:
John F. Sheehan
518-441-1340 (cell)
518-432-1770 (ofc)
FOR IMMEDIATE RELEASE, Friday, May 8, 2015
Adirondack Council Congratulates the Towns of Thurman on New, Adirondack Park-Friendly Broadband Network
New System Uses Radio Frequency between TV Stations, Signal Penetrates Forest
THURMAN, N.Y. – The Adirondack Council today congratulated Thurman Town Supervisor Evelyn Wood and the Town Board for creating a new kind of broadband network that gives clear signals to remote locations without the aid of tall towers.
"Thank you for inviting me to participate in this celebration of Thurman's perseverance and success in this lovely, historic building," said Adirondack Council Executive Director William C. Janeway, who joined town officials for a celebration of the new network at the town's newly refurbished Nettle Meadow Farm barn on South Johnsburg Road. "The Adirondack Council congratulates Town Supervisor Evelyn Wood for not accepting isolation as the inevitable fate of residents in her small, Adirondack town."
Through several years of hard work, Supervisor Wood and other town officials found a great way to provide the modern internet connections her community needs, despite the difficulty of persuading more traditional internet providers to serve the town's residents, Janeway said.
"All too often in the Adirondack Park, cell phone and cable television companies refuse to provide service, or cannot offer an affordable price for service or installation, due to the distance between customers," Janeway explained. "Today, the Town of Thurman is showing the rest of the Adirondack Park – and all rural areas across the United States – how to significantly improve electronic communications at a scale and cost that makes sense to small towns. In fact, Thurman's story has been told in Europe as well, where the BBC reports that television signal white-space will be used to provide internet service to residents of the remote Isle of Wight."
TV white-space signals can overcome the forests and rough terrain that block other communications signals.

"This eliminates the need to build tall, expensive and often-unsightly towers on mountaintops," Janeway said. "That protects the Adirondack Park's most remote and sensitive wildlife habitat from tower development while making this community a better place to live, work, play and start a business."
The Adirondack Council's mission is to ensure the ecological integrity and wild character of New York's six-million-acre Adirondack Park. The Council envisions an Adirondack Park with clean water and clean air, comprised of core wilderness areas, surrounded by working forests and farms, and vibrant rural communities. Adirondack Council members live in all 50 United States.