Adirondack Council Celebrate 40 Years of Conservation, Progress & Community Improvements in Adirondack Park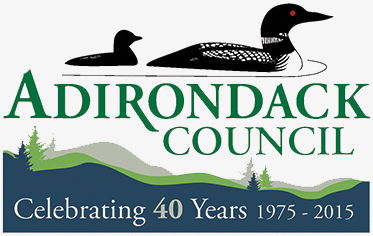 For more information:
John F. Sheehan
518-441-1340 (cell)
518-432-1770 (ofc)
FOR IMMEDIATE RELEASE: Wednesday, July 15, 2015
ADIRONDACK COUNCIL CELEBRATES 40 YEARS OF CONSERVATION, PROGRESS & COMMUNITY IMPROVEMMENTS IN ADIRONDACK PARK
Organization Says There is Much to Cheer
ELIZABETHTOWN, NY. – As it prepares for its Forever Wild Day in Lake Placid on Saturday, the Adirondack Council is reminding everyone who loves the Adirondacks that much has been accomplished on behalf of clean water and clean air, wilderness, wildlife and communities since the organization was founded in 1975.

"There is a lot to celebrate in the Adirondack Park, including a new, more collaborative approach that is bringing diverse interests together in pursuit of a healthy, beautiful and sustainable Adirondack Park," said Adirondack Council Executive Director William C. Janeway. "We are celebrating our 40th Anniversary this year, and recalling why the Adirondack Park is a national treasure that stands as a global model for how people and nature can thrive together.

"History shows that New Yorkers love the Adirondack Park and a solid majority is committed to its protection," Janeway said.

"Leadership from Governor Andrew Cuomo and others before him, and efforts together with many partners, have translated into a mountain of successes as we have all worked to expand wilderness, protect wildlife, keep waters pure, improve air quality, encourage vibrant communities and provide the leadership needed to keep conservation efforts in the forefront."
Janeway said that some current examples include:


New York State is in the process of completing the largest addition to the Adirondack Forest Preserve in more than a century, with the acquisition of more than 60,000 acres from Finch, Pruyn & Company's former holdings from the Nature Conservancy. They contain the best wildlife habitat and recreational features added to the preserve in a century;
New York is making available $50 million in clean water grants this summer -- as part one of a three-year, $200-million effort -- which will help communities across the park to afford new systems that provide better wastewater treatment and pure drinking water;
The Governor and legislature approved a pro-Adirondack budget, increasing state investment in clean water, wilderness and vibrant communities;
The Adirondack Common Ground Alliance will hold its annual gathering this week to continue its progress in bringing together interested citizens, local leaders and government officials with environmental and other non-profit organizations to create and pursue a shared vision of park protection and sustainable economic development; and,
The Adirondack Diversity Advisory Council is growing, and working to make the Adirondack Park a more welcoming place to people of all ages, races, backgrounds, preferences and orientations.
"There will always be challenges to overcome in pursuit of perfect management of the largest park in the contiguous United States, especially one that contains 130 villages and hamlets and millions of acres of private land" he explained. "There is still much to do. However, we are confident that by working with a diverse array of fellow stakeholders, we can continue to make progress for the environment and the people of the Adirondack Park."

Milestones from the Past 40 Years
Over the past 40 years, Janeway noted, the Adirondack Council's research, and science-based education, advocacy, legal actions, conservation leadership and collaboration with others have produced many benefits in support of wilderness and wildlife, vibrant communities, clean water and air, and farms and working forests. They include:

Wilderness & Wildlife

Defending and promoting the wild character and ecological integrity of the Adirondack Park and Forest Preserve:
More than one million additional acres of the Park protected by expanding the "forever wild" Forest Preserve by more than 400,000 acres (to over 2.8 million total acres) and by adding conservation easements on many private timberlands;
Eight new motor-free Forest Preserve areas created, including William C. Whitney Wilderness, Round Lake Wilderness, Hudson Gorge Wilderness, and Hurricane Mountain Wilderness, as well as the Essex Chain Lakes Primitive Area, Madawaska Flow Primitive Area and Boreal Primitive Area;
More than 1,000 miles added to NYS Wild, Scenic and Recreational Rivers Program;
Scenic vistas protected from ugly towers, while improving telecommunications;
Policy barred off-road motorized recreation from Forest Preserve trails;
Significant penalties imposed for timber theft from the Forest Preserve;
Lead sinker sales (half-ounce or less) banned to protect water, wetlands and birds; and,
Policies adopted resulting in loons, moose, fisher and a diverse array of fish, wildlife and birds returning.
Vibrant Communities

Supporting a better, more resilient, sustainable Adirondack Park, including vibrant communities:
Smart Growth grants helped communities plan for, and create, sustainable development;
$200 million committed to community clean water infrastructure grants;
Broadband communications expanded rapidly through state grants;
Constitutional Amendments authorized land-swaps with a net benefit to the Forest Preserve and assist communities by providing new drinking water sources (Raquette Lake; 2009), reliable electrical connections (Tupper Lake; 2007), an expanded airport (Piseco Lake; 1995) additional cemetery space (Keene; 1995), resolution of title disputes on taxable lands (Township 40/Raquette Lake; 2013); rural jobs (NYCO/Lewis; 2013), and easier management of timberlands (Perkins Clearing; 1975)
State and federal regulators initiated action to improve safety of crude oil shipments via railroad through the Park's Champlain Valley communities;
State reinvigorated promotion/branding for Adirondack tourism and businesses; and,
Adirondack Park's 130 communities retained $75+ million in annual state property tax payments for the Forest Preserve that were threatened by a lawsuit and a proposed executive action.
Clean Water and Air

Fighting for clean water and clean air; combating invasive species and climate change:
Emissions that cause acid rain slashed by more than 50 percent (10 million tons/year nationwide) restoring clean water and healthy loon habitat in lakes and ponds;
Regional Greenhouse Gas Initiative reduced carbon emissions by more than 50 percent by 2020; Adirondack Council further reduced RGGI's Northeast carbon cap by buying & retiring 12,860 tons by July 2015;
Ineffective black fly control halted; no longer threaten birds, bees and people with toxic pesticides sprayed from airplanes; Park-wide switch to non-toxic controls;
Federal Acid Rain program created first retirement program for pollution allowances created;
Northeast Regional Greenhouse Gas Initiative capped and cut carbon pollution;
New York State Energy and Research Development Authority funded "Cleaner Greener New York" clean energy initiatives; and,
State, local and park-wide efforts fought invasive species on land and in water.
Forests and Farms

Preserving the open space qualities of large tracts of private land and supporting working forests and farms:
State conservation easements permanently protected from development over 700,000 acres of private forests managed for forest products, wildlife and recreation;
State agencies embraced the Adirondack Council's conditions for Climate Smart Biomass (sustainably managed forests, air pollution controls to protect public health);
New laws enacted to increase state purchase of food from local sources;
New organizations and collaborations created to support local farming and food; and,
Over $200 million approved to conserve farm lands with conservation easements.
Leadership

Leading, expanding and diversifying the Park's constituency:
Adirondack Council defended fledgling Adirondack Park Agency in legal challenges from those seeking to abolish its jurisdiction over private land-use (1975 and later);
New blueprint created for completing the Adirondack Forest Preserve and the Park with four-volume 2020 VISION research series (1988) – becomes basis for NYS Open Space Conservation Plan (1994);
Environmental Protection Fund established (1993) to provide permanent funding source for environmental capital projects while requiring no borrowing;
More than $2 billion approved for conservation via bond acts (1986 and 1996);
Helped launch the Adirondack Land Trust;
Adirondack Common Ground Alliance (2007) and Adirondack Diversity Advisory Council (2014) helped increase support for conservation and communities; and,
Adirondacks became a national model for cooperative review of military training on/over Park lands and homes.
The Adirondack Council's annual Forever Wild Day celebration will be held Saturday from noon until 2:30 at the Heaven Hill Farm in Lake Placid. Click HERE for more information.

Founded in 1975, the Adirondack Council is a privately funded not-for-profit organization whose mission is to ensure the ecological integrity and wild character of the Adirondack Park. The Council envisions a Park comprised of core wilderness areas, surrounded by farms and working forests, as well as vibrant, local communities.

The Council carries out its mission through research, education, advocacy and legal action. Adirondack Council members live in all 50 United States.