Adirondack Council Calls on State to Protect & Grow Forests
Governor's New Goals, Agency's Approval of a Large Clear-Cut Trigger Call for Action On Incentives for Private Forest Growth to Combat Climate Change, Protect Clean Water & Wildlife
ALBANY, N.Y. – New York's environmental agencies, Governor and Legislature should create new regulations and laws in 2019 that promote sustainable forest management on private lands inside the Adirondack Park, said the Adirondack Council, a leading environmental organization focused on preserving the Adirondack Park.
A new initiative is needed to promote healthy forests, redefine and limit clear-cuts, protect clean water, help wildlife, preserve scenic views and fight climate disruption by increasing carbon-sequestration, the Council said.
At 9,300 square miles, the Adirondack Park is the largest, intact temperate deciduous forest in the world and the largest park in the contiguous United States. It can play a crucial role in New York's plans to combat global climate change, the Council said.
On December 14, the state's Adirondack Park Agency (APA) approved a clear-cutting permit for a 643-acre timber harvest in the Adirondack Park.
"Some were surprised that we didn't oppose the APA's approval of this clear-cut," said William C. Janeway, Adirondack Council Executive Director. "This specific cut was well designed. On a limited percentage of private working forest lands, what the Park Agency defines as a 'clear-cut' can be a smart and scientifically desirable forest management practice."
"What is objectionable," said Janeway, "was that there was no recognition by the state agencies responsible for oversight that repeated large or extensive clear-cutting is not sustainable and would have negative impacts on the wild forest character and forest stocks of the Adirondack Park. We see routine approval of clear-cutting permits, which we don't necessarily oppose. We don't see an overall or cumulative-impact assessment of what the cuts will mean to the health and well-being of the park, or its wild character."
Since 2013 the Agency has approved 24 permits for what it has called "shelterwood removal, overstory harvest, single tree and group selection, free thinning, patch removal," on more than 6,500 acres, Janeway noted. All of those projects involved clear-cutting more than 25 acres on a single parcel of upland forest. Below those thresholds, except in wetlands, no APA permit is required.
Flying over the Park in a small aircraft, Janeway and the Council captured images of clear-cutting in St. Lawrence County. The appearance of these forests stands in stark contrast to the "forever wild" state Forest Preserve and other private lands around them, he said.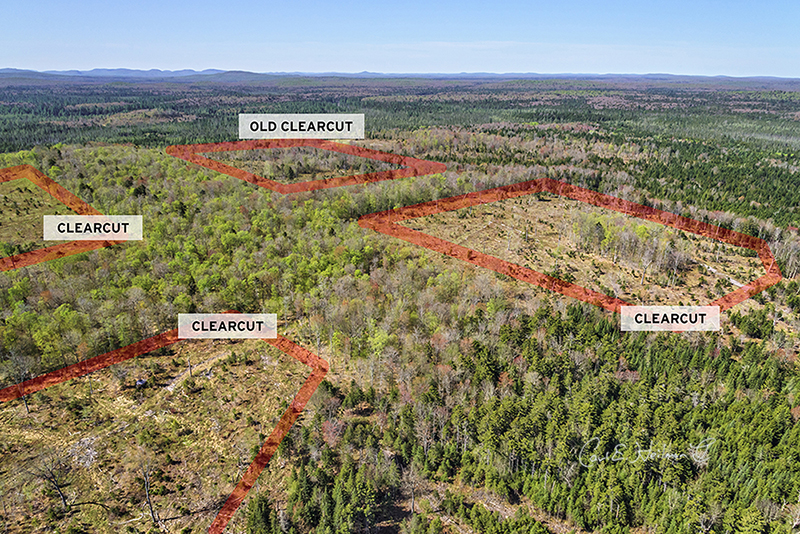 Commercial timberlands in the Raquette River watershed of St. Lawrence County, inside the Adirondack Park.
Note the contrast with surrounding forests outside of the outlined areas. Photo Carl Heilman II, Wild Visions.
Janeway noted that the Adirondack Council's goal was to maximize the Adirondack Park's ecological health and well-being and to protect its wild character. The best timberland owners manage their lands in ways that keep them healthy, while also providing a financial return from optimizing harvests of commercially valuable trees. The objectives of the Council and most timberland owners are not incompatible, but require some balancing, Janeway said.
Janeway called on the APA to work with all stakeholders to update its clear-cutting regulations, do a cumulative-impact analysis of such cutting on the wild forest character of the Adirondack Park, so it can determine and set limits.
"Equally or more important," Janeway said, "New York needs new financial incentives for private forest owners to sustainably harvest timber, manage forests for wildlife, and to protect clean water, while also growing trees faster than they are cut. The Adirondack Park is New York's greatest opportunity for enhancing the carbon-sequestration that combats climate change."
Earlier in 2018 Governor Cuomo proposed an "Empire Forests for the Future Initiative" (EFFI) package of reforms that would have updated forest tax law to incentivize more environmental forestry. The proposal was supported by the Adirondack Council, and a diverse partnership of conservation groups, forest owners, and other stakeholders.
On Monday (Dec. 17), Governor Cuomo announced new goals for 2019 and beyond, including a "Green New Deal," protection of clean water, protection from pollution, and greater efforts to combat climate change or climate disruption. Specifically, the Governor called for New York State to have a "carbon neutral" electric system by the year 2040.
"Experts agree that growing more trees than are cut increases the carbon pollution absorbed and retained by the forest," said Janeway. "This can be a significant contributor to a carbon neutral system. Achieving carbon neutrality is critical to fighting climate change and climate disruption."
Janeway also said the Adirondack Council supports the Governor's vision for a Green New Deal, and an investment in infrastructure needed "to protect clean water and preserve the state's world-class Adirondack Park." Janeway said the initiative would help keep the Park's intermixed public and private lands wild, and preserve countless scenic vistas.
The Adirondack Council has been a leading voice for forest tax law reforms for more than three decades. If enacted, the Council's proposals would incentivize and increase profitability for environmentally responsible forestry and private open space conservation. The Council supports the coupling of the reforms with full reimbursement to local towns for any lost property tax revenue.
Details of the Governor's 2018 Empire Forests for the Future Initiative and the Adirondack Council's full position statement regarding the proposal are detailed in its Memo of Support to the Legislature.
The Adirondack Council reminded the state agencies that forests are only a renewable resource when they are managed sustainably. Some but not all of the private forest land in the Adirondacks is under third-party certification as sustainably managed by either the industry-sponsored Sustainable Forestry Initiative and/or the independent Forest Stewardship Council. But not all forest lands are. And currently, clear-cuts of less than 25 acres require no Park Agency review.
"Our observations show that heavy cutting is occurring on some private lands in the Adirondack Park," Janeway explained. "There is a problem if this is happening on lands on which the state purchased conservation easements limiting cutting, or on lands certified as sustainably harvested, and this is a problem if this rate of cutting is occurring elsewhere in the Park."
The Adirondack Council is a privately funded not-for-profit organization whose mission is to ensure the ecological integrity and wild character of the Adirondack Park. The Council envisions a Park with clean water and clean air, comprised of core wilderness areas, surrounded by farms and working forests, as well as vibrant communities. The Adirondack Council carries out its mission through research, education, advocacy and legal action to ensure the legacy of the Adirondack Park is safeguarded for future generations. Adirondack Council members live in all 50 United States.
For more information:
John Sheehan, Adirondack Council, 518-441-1340 cell
FOR IMMEDIATE RELEASE: Thursday, Dec. 20, 2018