Adirondack Council Encourages Communities to Tap State Grants to Reduce Cost of Clean Water Projects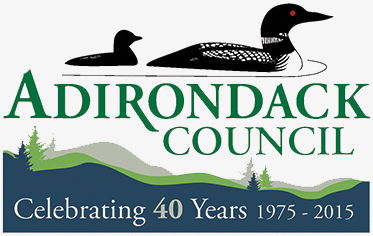 For more information:
John F. Sheehan
518-441-1340 (cell)
518-432-1770 (ofc)
FOR IMMEDIATE RELEASE: Thursday, July 8, 2015
ADIRONDACK COUNCIL ENCOURAGES COMMUNITIES TO TAP STATE GRANTS TO REDUCE COST OF CLEAN WATER PROJECTS
$200 Million Available Now through 2017 from Water Infrastructure Improvement Act
ELIZABETHTOWN, NY. – The Adirondack Council wants communities throughout the Adirondack Park to know there are now matching grants available for clean water projects they had hoped to complete but could not afford.

"Most Adirondack communities have only a few thousand residents, so multi-million-dollar wastewater collection and treatment projects can seem unaffordable," said William C. Janeway, Executive Director of the Adirondack Council. "There are a lot of good plans out there, but not enough grant money to do the work. This new pool of $200 million can solve a lot of problems in the Adirondacks over the next three years, without unduly burdening local taxpayers."

The Council and its partners had urged Gov. Andrew Cuomo and the Legislature to create a clean water grant program during the state budget negotiations.

"The state has an important stake in protecting clean water throughout the Adirondack Park," Janeway said. "An investment in municipal clean water projects here results in many benefits to tourism and to communities outside the park that depend on Adirondack rivers for their water, such as the Hudson, Mohawk, Raquette, Black, Ausable, Saranac, Salmon and others."

This year, New York will make available $50 million for matching grants and long-term loans, while increasing the amount to $75 million in 2016 and 2017.

Called the "New York State Water Infrastructure Improvement Act of 2015," the program puts in place a mechanism to close the funding gap for communities across the state that are facing billions in backlogged water infrastructure projects, critical for protecting public health and clean water and essential for attracting and retaining private business investment.

The state estimates that communities are facing $75 billion in unmet clean water infrastructure needs over the next two decades. The Department of Environmental Conservation has estimated the need for wastewater infrastructure at $36 billion; the Department of Health has estimated the need for drinking water infrastructure at nearly $39 billion.

The crumbling state of New York's water infrastructure has resulted in devastating consequences for the park's communities. Numerous local governments struggled with broken water and sewage pipes and faltering treatment systems last winter and this spring.

"These incidents result in boil water alerts, closed roadways, closed beaches and impaired waterways, a lack of access to drinking water, and even businesses and schools having to close," said Janeway. "It undermines public health, safety, and our communities' ability to attract sustainable, new development."

Under the new program, the state will cover up to 60 percent of municipalities' drinking water infrastructure project costs, with a cap at $2 million per municipality per year and, for wastewater projects, up to $5 million in individual, one-time grants or 25 percent of a project's total cost.

Applications for both wastewater and drinking water projects are now available and are due by September 4, 2015. More information on the grant program and applications is available at www.efc.ny.gov/NYSwatergrants. Municipalities with questions should call the Environmental Facilities Corporation at 518-402-6924.

"By agreeing to cover by grants 60 percent of drinking-water project costs, the state is acknowledging the need of strapped communities for assistance in paying for water infrastructure projects, considering the limitations put on them through borrowing costs and the state's 2-percent tax cap," Janeway explained.

The Adirondack Council thanked the Governor and the Legislature – in particular Assembly Members Steven Englebright, D-Setauket, Daniel J. O'Donnell, D-Manhattan, Steven Otis, D-Rye, and Senators John DeFrancisco, R-Syracuse, Carl Marcellino, R-Syosset, and Thomas F. O'Mara, R-Big Flats – for calling attention to our communities' water infrastructure needs and limited ability to pay for these projects.

"This kind of investment in clean water systems can help small Adirondack Park communities rebuild facilities to better handle local business, residents and 10 million annual visitors," said Janeway. "We have world-class scenery and recreational opportunities in the Adirondacks, but we don't yet have the world-class drinking water and wastewater treatment systems we need to protect the environment and public health. This will help wildlife, communities, clean water and wilderness."

The Adirondack Council is a privately funded not-for-profit organization whose mission is to ensure the ecological integrity and wild character of the Adirondack Park. The Council envisions a Park comprised of core wilderness areas, surrounded by farms and working forests, as well as vibrant, local communities.

The Council carries out its mission through research, education, advocacy and legal action. Adirondack Council members live in all 50 United States.