SCOTUS Hears Challenge to EPA Power Plant Regs
Public News Service (NY)
March 25, 2015

Derek Hawkins,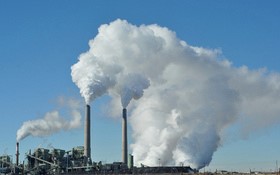 The U.S. Supreme Court hears arguments
today on whether the EPA can require coal
and oil power plants, including 19 utilities
in New York state, to clean up toxic
airborne emissions.
Photo credit: glennia/Flickr
NEW YORK - The Supreme Court is to hear arguments today about whether the Environmental Protection Agency can require coal and oil power plants - including 19 utilities in New York state - to cut back on toxic emissions.

A coalition of states and fossil-fuels groups has asked the court to prevent the agency's Mercury and Air Toxics Standards from taking effect. Earthjustice attorney Jim Pew said thousands of lives could hang in the balance if the court scraps the rule.

"The impact is enormous - 4,000 to 11,000 lives every year if the rule is left in place," he said. "This would be the first year that the dirtiest coal plants would be cleaning up their pollution, and that many lives would be saved this year and next year and the year after that. If this rule gets thrown out, they won't be saved."

The coal industry and states such as Michigan that rely heavily on fossil fuels argue that the rule is too expensive to implement and that it could prevent some parts of the country from receiving the electricity they need. They also allege that the EPA should have considered the $9 billion price tag before issuing the rule.

Exposure to toxins from power plants is higher in communities of color - 71 percent for African-Americans compared with 56 percent for the general public, according to the NAACP. Jacqui Patterson, director of the NAACP's Environmental and Climate Justice Program, said New York is home to four coal-power plants that disproportionately affect communities of color. She said it's important that the state has intervened on behalf of the EPA in the lawsuit.

"New York really does need to take up the charge of making sure these regulations are in place, because it's the very communities in New York that are being polluted," she said, "not to mention the fact that New York neighbors other states, so they're also blowing that into other states as well, so the responsibility is there."

The EPA spent more than a decade developing the Mercury and Air Toxics Standards, and finalized the rule in 2011. This is the first year power plants will have to comply with the standards.