Forever Wild Day 2023
Saturday, July 15 at Crown Point State Historic Site
Please join the board, staff and fellow members for our in-person annual Forever Wild Day celebration at Crown Point State Historic Site on Saturday, July 15 from 9:00 am - 3:30 pm. There will be optional activities from 9:00 - 11:00 am and 2:00 - 3:30 pm, and we'll gather over lunch to highlight some of the amazing work being done on behalf of the Adirondacks by this year's Conservationist of the Year, the New York State Black, Puerto Rican, Hispanic, and Asian (BPHA) Legislative Caucus, and our Special Recognition Award Recipient, Champlain Area Trails (CATS) and its Executive Director, Chris Maron.
We invite you to join us for a slate of morning outings to learn about the history of the area, the natural lands along the Champlain coast, and to enjoy time with fellow members who are equally as passionate about the preservation of the Adirondack Park's clean water, clean air, ecological integrity, and wild character. We hope you'll stick around after the lunch program to meet some of our staff and there will be an opportunity to explore a local CATS trail.
Please click on the links below to make your lunch reservation, sign-up for group outings and/or give a gift of support.

Lunch Reservations

Sign-Up for Group Outings

Give a Gift of Support

Looking for a paper copy? Please see our Members' Meeting and Forever Wild Day invitation and response form. Click here for driving directions and accommodations and a map of the Crown Point State Historic Site.


Forever Wild Day Schedule
9:00 – 11:00 am | Registration/Welcome
9:00 – 11:00 am | Group Outings - Paddle, Walk/Talk, Museum Tour
12:00 pm | Welcome & Award Presentation
Welcome and Opening Remarks
Members' Meeting Recap
Special Recognition Award to Champlain Area Trails and Chris Maron, Executive Director
Conservationist of the Year Award to the New York State Black, Puerto Rican, Hispanic, & Asian Legislative Caucus
12:30 pm | Lunch Under the Tent ($25/person)
1:00 pm | Q&A with Acting Executive Director Raul J. Aguirre
2:00 - 3:30 pm | Adjourn - Coot Hill Hike

Group Outing Schedule
Please sign-up to attend a group outing by July 5th.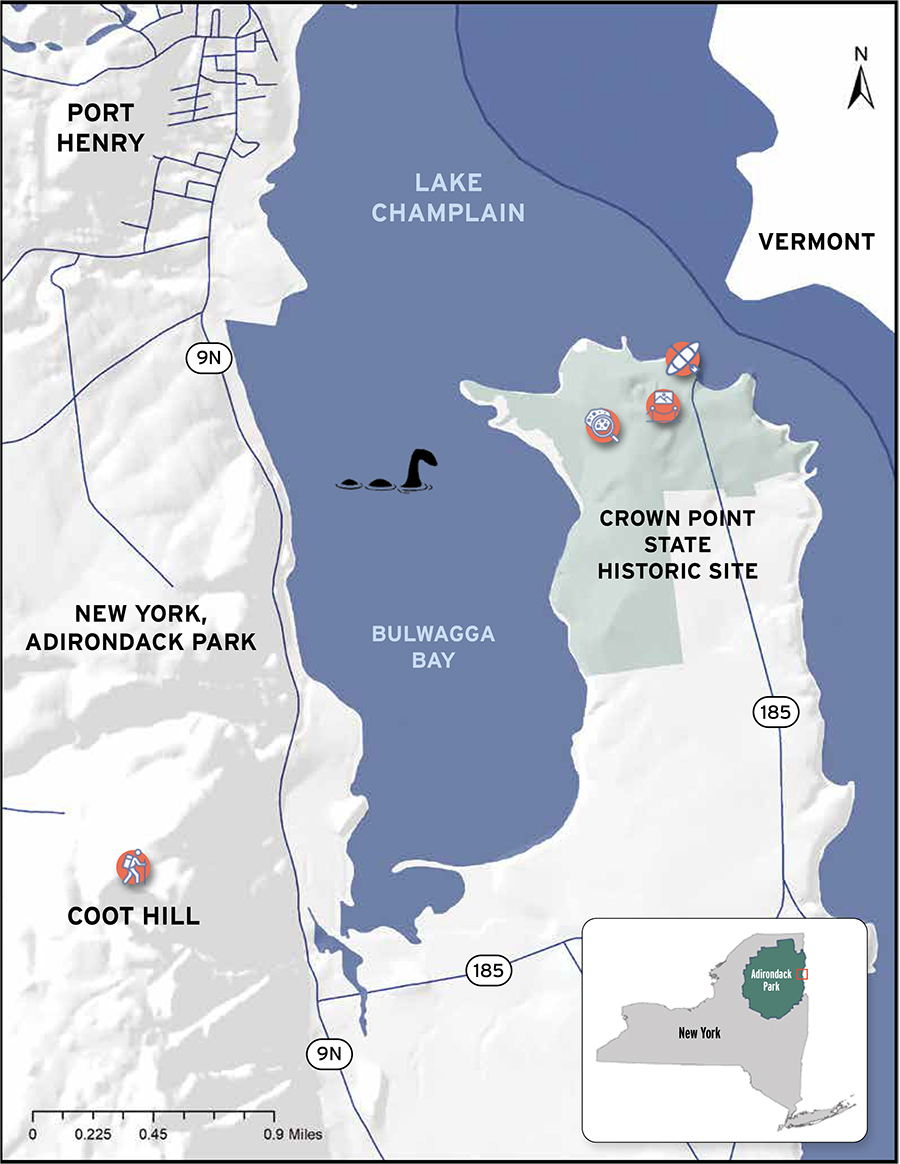 9:00 – 11:00 am | Lake Champlain Paddle (moderate)
(Weather permitting - please bring your own boat and personal floatation device)
Join Adirondack Council staff members John Davis, Rewilding Advocate and Jess Grant, Conservation Associate on a paddle around Lake Champlain to explore the ecological significance of the waterway and the species that populate the lake and surrounding area.
9:00 – 11:00 am | Historical Tour and Museum led by Museum Staff (easy)
Learn about the historic significance that Crown Point plays in New York history. Guests will be able to explore the historic grounds and hear from museum staff about the stories of different folks who have occupied the site. They'll also venture into the museum on site to see a number of historical artifacts that have been discovered at Crown Point. $4.00 museum entry fee
9:00 – 11:00 am | Geology Walk & Talk (easy, uneven ground)
The New York State Park at Crown Point is known for the well-preserved ruins of forts that date from 18th century military engagements between the French and British struggling for control of Lake Champlain. The State Park also contains excellent rock exposures of much, much older chapters in the history of the Champlain Valley. This field trip will examine the rocks of the ~450 million-year-old Chazy Group limestones exposed in and around the fort. We will examine the fossils and rock features that record their origin in the shallow, tropical marine sea that existed in this part of North America during the geologic time period termed the Ordovician. The field trip involves walking on uneven ground through the Park and is led by Prof. Charlotte Mehrtens, who has studied and published numerous scholarly works on the geologic history of the Champlain Valley region of New York and Vermont.
2:00 - 3:30 pm | Coot Hill Hike (moderate)
Coot Hill Trail leads to one of the best viewpoints in the Champlain Valley. It follows a seasonal road to an old cemetery where it then goes to the overlook where hikers can look south down the Champlain Valley toward Ticonderoga, east across Bulwagga Bay and the Champlain Bridge toward the Green Mountains of Vermont, and north to Split Rock Wild Forest almost twenty miles away. Meanwhile, just to the south is "Big Hollow," a glacial carved canyon whose cliffs provide thermal updrafts used by hawks when they migrate north and turkey vultures flying for fun and looking out for food. The trail is two-miles round trip and is fairly easy except for a couple short and somewhat steep inclines.
Have questions about the 2023 Forever Wild Day at Crown Point State Historic Site? Please contact Assistant Director of Development Nicholle Gotham at 518.873.2240 Ext. 103 or ngotham@adirondackcouncil.org