Forever Wild Day 2019
Join us on Saturday, July 13 in Willsboro, NY!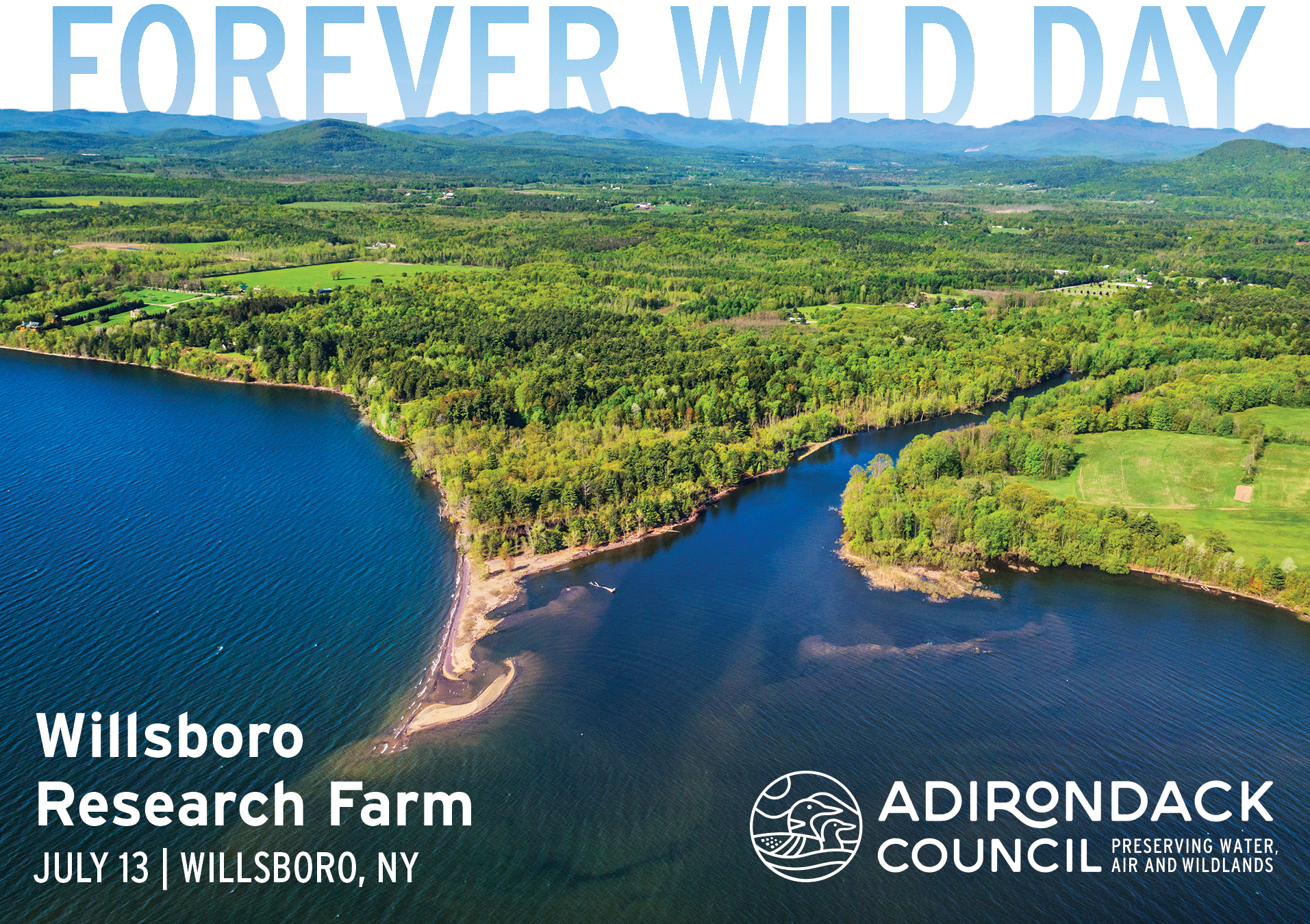 This year's Forever Wild Day will be held under a tent at the Cornell University Willsboro Research Farm in Willsboro, New York. The day includes a celebration of the Council's hard work and our collective successes on behalf of our beloved Adirondacks, the annual membership meeting and awards luncheon honoring the 2019 Conservationist of the Year and Special Recognition Award recipient. There will be optional outings in the morning and time to share your love of the Adirondacks with friends and fellow conservation advocates.
Forever Wild Day Schedule
9:00 am – 11:00 am
GROUP OUTINGS (see details below)
Flatwater paddle on the Boquet River
Willsboro Research Farm Tour
Boquet River Nature Preserve Trails
11:00 – Noon
Registration & Welcome with Adirondack Council Board and Staff
Noon – 2:30 pm
Lunch under the tent (reservations required)
2019 Conservationist of the Year and Special Recognition Awards
Annual Members' meeting and dessert
Group Outing Details
Please sign-up to attend a group outing by July 5th.
Flatwater Paddle on the Boquet River | 9:00am – 11:00am
Group paddle led by Council staff along the Boquet River. Bring your own canoe or kayak or borrow one courtesy of the Town of Willsboro (limited supply). (2 hours)
Willsboro Research Farm Tour | 9:30am – 11:00am
Michael Davis, Farm Manager of the Cornell University Agricultural Experiment Station will provide a tour of the 352-acre farm, located along Lake Champlain at the base of Willsboro Point. The farm conducts a range of research projects in support of Northern New York agriculture. Highlights include industrial hemp trials, high tunnel vegetable production systems, and development of commercially viable berry fruit crops. Nutrient management studies have historically been a major focal point, and the farm has fifty-two specially constructed field-scale drainage plots that provide researchers with a unique opportunity to test fertilizer application practices that are agriculturally, environmentally and economically sound. (1.5 hours)
The Boquet River Nature Preserve Trails | 9:00am – 11:00am
Explore a 110-acre floodplain and upland forest along the lower Boquet River owned by the Nature Conservancy's Adirondack Chapter. Hike a network of trails including the River Trail, Southern Connector Trail, and the Universal Access Trail Loop (Tim's Trail), a 1.5-mile loop that has a crushed stone surface that can accommodate walkers, runners, strollers, and wheelchairs. (2 hours)
Other activities in the Willsboro area
Visit the Willsboro Chamber of Commerce website for more information on area shops, restaurants, lodging and things to do.


Thank you to our sponsors and patrons!