2022 Conservationist of the Year Award
Jen Kretser & The Wild Center's Youth Climate Program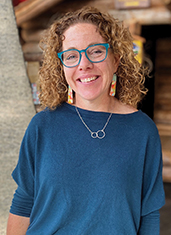 Jen Kretser is the Director of Climate Initiatives for The Wild Center – a science center in the Adirondack Park in northern New York State. Jen manages The Wild Center's climate change engagement programs including the global Youth Climate Program which was highlighted by the Obama White House Office of Science and Technology; interpretive programs for visitors; green building education & design; and other climate related initiatives/partnerships. She is working to help catalyze youth climate summits around the world. In November 2021, Jen led the Wild Center Youth Delegation and the US Action for Climate Empowerment (ACE) Delegation at the UN COP 26 in Glasgow. Jen is on the coordinating team of the U.S. Action for Climate Empowerment – working to build a network of climate change education, public engagement and training across the country. In addition, she is a founding member of the NY Climate Resilience and Education Task Force which elevates climate change education and action in NY Public Schools; and the national Climate Literacy and Energy Awareness Network Board. As a senior staff member at the Wild Center Jen works on Diversity, Equity and Inclusion initiatives including a long-standing partnership with the Haudenosaunee. She also serves on the Adirondack Diversity Initiative core team and the Adirondack Mountain Club
Prior to her work with The Wild Center, Kretser served as Director of Education for the Adirondack Mountain Club for 7 years focused on educating for responsible recreation, stewardship, and interpretive planning. Her past experiences include teaching and developing programs at the Cincinnati Zoo, the Aspen Center for Environmental Studies, the Jane Goodall Institute, the Adirondack Park Visitor's Interpretive Center, and Zoo New England in Boston. Originally from Saranac Lake, Kretser is active in the regional arts community – having served on the founding board of BluSeed Studios; coordinated community artists events and showed her own work (printmaking and mixed media) both regionally and in Mexico. Through her strong interest in international work, Kretser has participated in multiple professional exchanges to Finland to help create the first Finland Youth Climate Summit, the first Youth Climate Summit in Sri Lanka in January 2017, the first Youth Climate Summit in Germany in November 2018, worked in the Altai Region of Siberia to work with park officials on creating education programs for their National Park system; and an artist exchange to Mazatlan, Mexico.
For her work in the Adirondacks, Jen was the 2006 recipient of the ADK Education Award, 2007 EPA Region 2 Environmental Educator Award, APA Appreciation Award, 2015 U.S. EPA Environmental Champion Award, 2018 Spirit of John Brown Freedom Award, and the 2019 Antioch Alumni Award. Jen is a member of numerous professional organizations including: the Association of Science Technology Centers, the American Association of Museums, the National Association of Interpretation, North American Association of Environmental Education, and is a Climate Reality Leader. She has traveled extensively in Central America, Sri Lanka, Australia, Siberia, Finland, New Zealand, Nepal, and India – exploring parks and meeting people. Jen is a graduate of Cornell University in Wildlife Ecology & Antioch University in M.S. Environmental Science & Education. When not working, Jen can be found outside hiking, paddling, xc skiing and picking blueberries with her family and friends.
Special Recognition Award
Assemblymember Billy Jones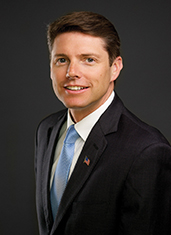 Assemblymember Billy Jones (D-Chateaugay Lake) has represented New York's 115th District, which includes the northern Adirondacks, since 2016. The Assemblymember authored and successfully passed the Randy Preston Road Salt Reduction Act which established the Adirondack Road Salt Reduction Task Force and Pilot Program in 2022.

In 2021, he co-sponsored and passed the Aquatic Invasive Species Transport Act which required boaters to take precautions like cleaning, draining, and drying their watercraft before launching in New York waters in order to prevent the spread of aquatic invasive species.