Freshwater Jellyfish in the Adirondacks?
By: Blake Neumann – Adirondack Council Clean Water Advocate
Friday, May 6,.2022
As we approach New York State's Invasive Species Awareness Week (kicking off June 6), today we are diving into an exploration of a lesser-known, non-native inhabitant of the Adirondack Park: the freshwater jellyfish (Craspedacusta sowerbyi). Freshwater jellyfish (also called peach blossom jellyfish) are native to the Yangtze River valley in China but are found in parts of the Eastern US as a non-native species.
It is believed that these jellyfish were initially introduced in conjunction with non-native ornamental plants from China, such as water hyacinth. It is likely they were transported across the Eastern US through the movement of stocked fish, aquatic plants, and waterfowl. Where introduced, the jellyfish typically prefer slow-moving, shallow water, as found in ornamental ponds, reservoirs, gravel pits, and quarries. However, the jellyfish has been reported in a number of New York lakes and ponds since its introduction and first observation of the species in the state, around 1934.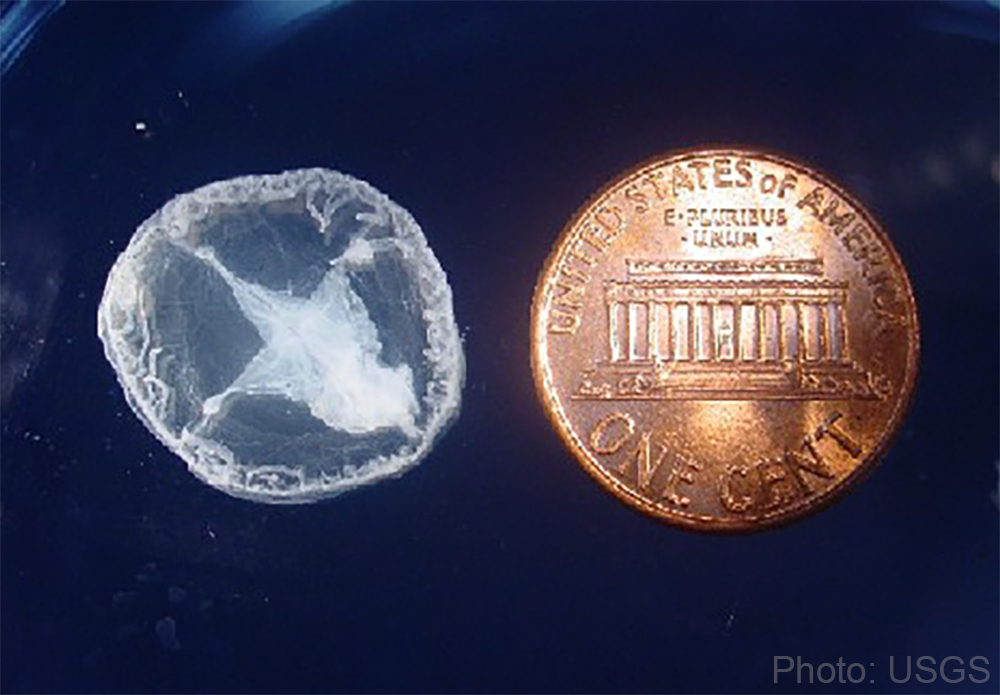 An Unusual Intruder
The freshwater jellyfish has four long tentacles, is generally bluish or whitish in color, and is roughly the diameter of a penny when fully grown, anywhere from 5-25mm. Although it has various life cycles ranging from microscopic up to its fully-grown size, it is most recognizable in the hydromedusa stage of its life cycle. However, it more commonly exists in its other, more discrete forms of the life cycle in Adirondack waters. Large swarms of these hydromedusae appear sporadically and simultaneously, making them easier to spot during periods of jellyfish "blooms." Freshwater jellyfish blooms do not necessarily occur at regular intervals, making it harder to predict when you may be able to spot them.
According to a 2017 report prepared by a SUNY-ESF graduate student and advisor, Craspedacusta generally emerge when water temperatures reach 25°C or higher. Freshwater jellyfish were observed by the researchers on Wolf Lake near Newcomb in the fall of 2016; however, the following year the researchers returned and the jellyfish were nowhere to be found. It is speculated that blooms are likely correlated to periods of abnormal heat (i.e. heatwaves) and therefore may not be visible every year.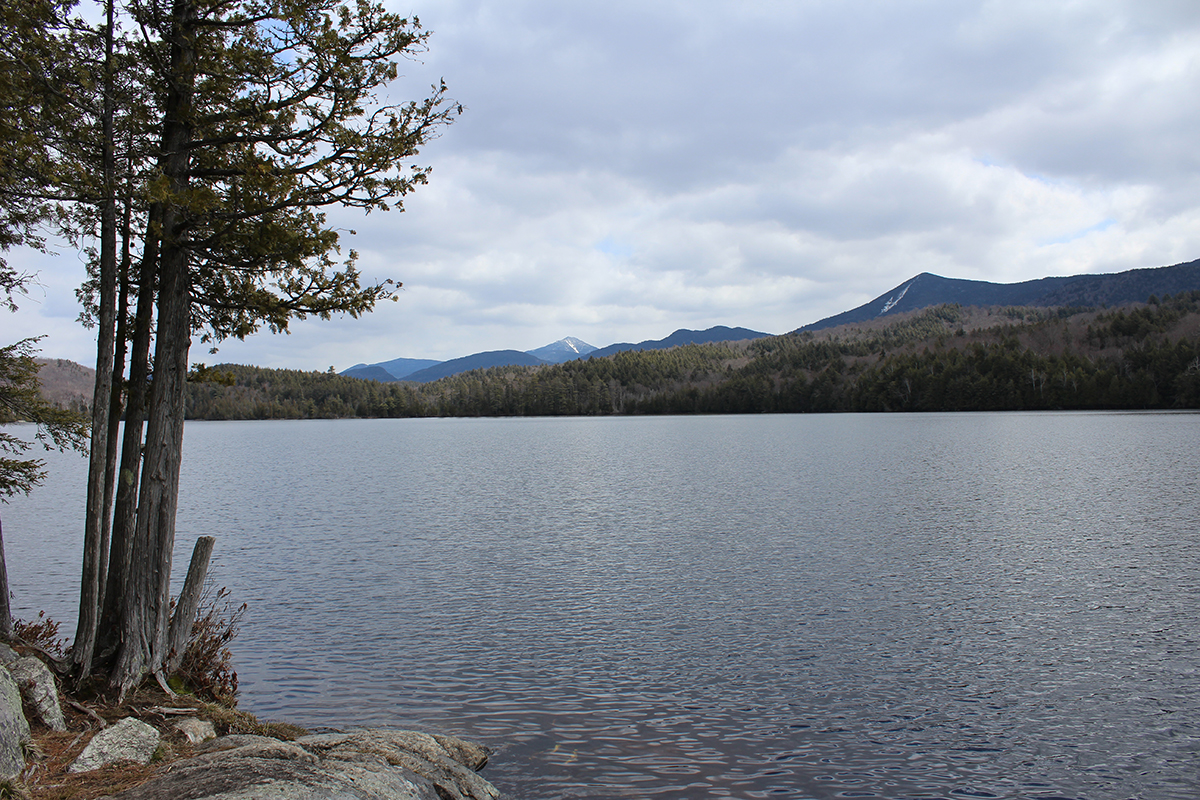 Jellies in a Warming World
The preference of freshwater jellyfish for more temperate to warm water temperatures raises the potential impact of regional climate change on the viability of freshwater jellyfish populations in the Adirondacks. As surface water temperatures rise, autumn jellyfish blooms may become more prevalent. Why might seeing an abundance of these freshwater oddities be a big deal? According to the ESF report, we should be monitoring how zooplankton communities are responding in waters where these jellyfish are found. Disruptions to the delicately balanced food webs of Adirondack lakes and ponds could have serious implications for fisheries, as well as other native aquatic organism populations.
While currently these non-native species do not appear to be threatening the availability of food for native species, the effects of long-term climate change are unpredictable. The combination of stress from competition over food, as well as shrinking habitat range for cold water predator and prey species alike, are concerns to the ecological balance of Adirondack waters. Furthermore, the trend of lake browning in the region is likely to create favorable conditions in the future for invasions by this species.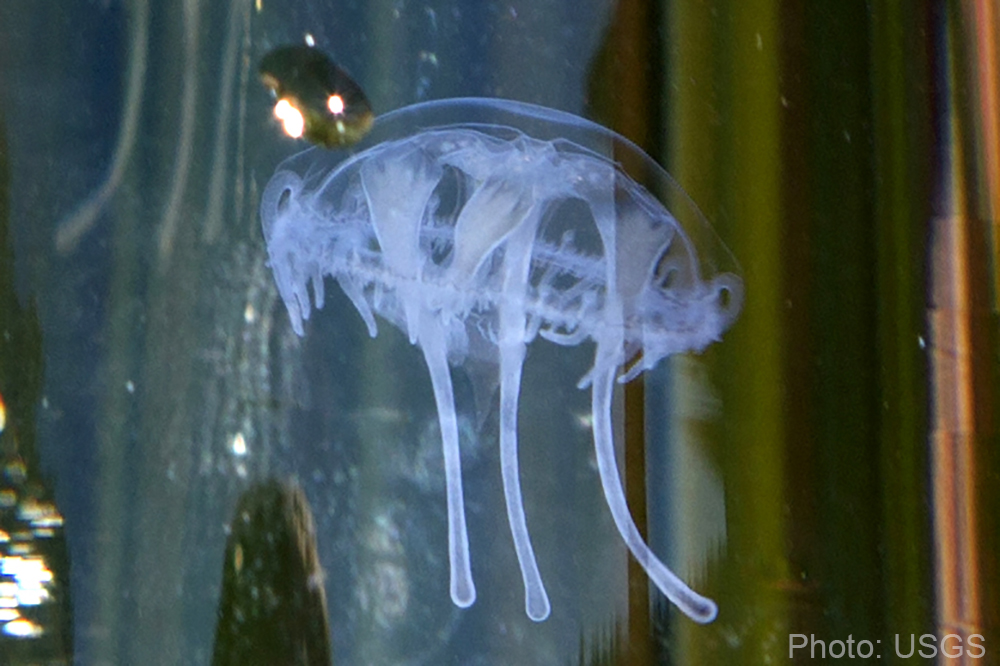 Addressing Threats at SCALE
The Adirondack Council has advocated for state support for the forthcoming Survey of Climate Change and Adirondack Lake Ecosystems (or SCALE). The effort is funded by New York State Energy and Research Development Agency (NYSERDA) and pulls together a variety of research institutions, environmental non-profits, and state and federal agencies to study the impacts of climate change on Adirondack waters, providing insight on how best to protect these sensitive ecosystems. The recently passed state budget included $500,000 for this effort, which will be the first major survey of Adirondack lakes since the 1980s.
Again, freshwater jellyfish do not seem to pose an immediate threat at this time, though further research will help confirm this. Research efforts such as SCALE will help provide the knowledge and resources to ensure that responses to threats are forward-looking and adaptive to changing climate and environmental conditions. Factors such as warming temperatures, lake browning, and other climate trends could contribute significantly to the spread of non-native species throughout the region over the coming years. Our ability to gather information on the impacts of these trends will be imperative to proactively manage the threats that aquatic invasive species pose to our Adirondack waters.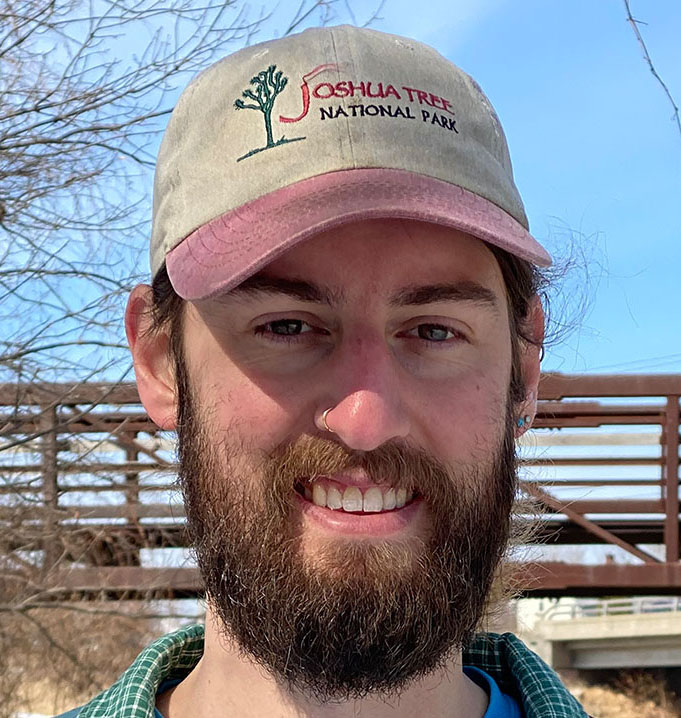 Blake Neumann joined the Council in 2021 as the Clean Water Advocate. A Kentucky native, his deep love of the Adirondacks comes from his childhood summers spent paddling and camping with family around the Park. Blake holds a Master's in Public Administration from Syracuse University and a Master's of Science in Water & Wetland Resource Studies from SUNY-ESF. He most recently was doing similar watershed planning for The Nature Conservancy in Wisconsin. When not working, Blake can be found running or skiing nearby trails, swimming anywhere he can, or in his canoe with his furry co-pilot, Jackson.